:::
一種稱為Plan-EAT的新建築評估工具,結合先進的空間分析,可用於改善失智症患者的護理設計。它對設施的佈局進行評估,以評價其與居民需求有關的設計品質。設計--而不是改造--設施確保它們真正適合用途,並將提高正接受護理的失智症患者福利。
A new architectural assessment tool called Plan-EAT, paired with advanced spatial analysis, can be used to improve aged care design for people with dementia. It assesses a facility's layout to evaluate the quality of its design in relation to residents' needs. Designing – rather than retrofitting – facilities ensures they are truly fit-for-purpose and will enhance the welfare of people living with dementia in care.
Plan-EAT使用以證據為基礎的原則,評估擬議平面圖或現有的住宅護理設施,包括安全、尺寸和規模、減少刺激、移動和參與、隱私和社會互動。在實際意義上,它產生了一種指數,專家評估員可以根據這種指數來衡量建築計畫的屬性,然後用於改進設計。
Plan-EAT evaluates the floorplans of proposed or existing residential care facilities using evidence-based principles, including safety, size and scale, reduction of stimuli, movement and engagement, privacy and social interaction. In a practical sense, it produces a kind of index against which the properties of architectural plans can be measured by expert assessors and then used to change a design for the better.
這個項目背後的研究團隊,包括來自斯特靈大學、臥龍崗大學、和新南威爾斯大學雪梨分校環境、失智症和高齡化研究中心的專家們。他們正在研究如何通過額外的運算模型和優化技術來補充其研究結果,以改善設施設計。運算設計是一種資料密集、技術先進的方法,可預測空間中的典型行為,使設計優化符合理想的社會或行為模式。
The research team behind this project, which includes experts from the Centre from Environment, Dementia and Ageing Research at the University of Stirling, the University of Wollongong and UNSW Sydney. It is examining how its findings can be complemented by additional computational modelling and optimisation techniques to improve facility designs. Computational design is a data intensive, technically advanced approach which predicts typical behaviours in space to enable design optimisation in line with desirable social or behavioural patterns.
新南威爾斯大學的邁克爾·J·奧斯特瓦爾德教授,是Plan-EAT國際項目的負責人。他的研究在神經生理學(大腦掃描和眼動分析)的支援下,使用預測性數學模型進行分析、優化和理解建築和城市空間。
UNSW's Professor Michael J. Ostwald, who is leading part of this international project. His research uses predictive mathematical models, supported by neurophysiology (brain scans and eye movement analysis), to analyse, optimise and understand architectural and urban space.
奧斯特瓦爾德教授表示失智症患者的獨立性和幸福感會受到他們周圍物理環境的顯著影響。當澳洲人口老齡化和失智症患者人數增加時,有必要設計更有效的老年護理設施以更好地滿足他們的需求。然而,"大多數住宅護理設施是為身體機能衰退的人設計,而不是為失智症患者設計的",他說。
Professor Ostwald indicates independence and wellbeing of people with dementia can be significantly influenced by the physical environments around them. When population in Australia ages, and the number of people living with dementia increases, it is necessary to design more effective aged care facilities to better accommodate their needs. However, "the majority of residential care facilities were designed for people who have deteriorating physical mobility, rather than for people with dementia", he says.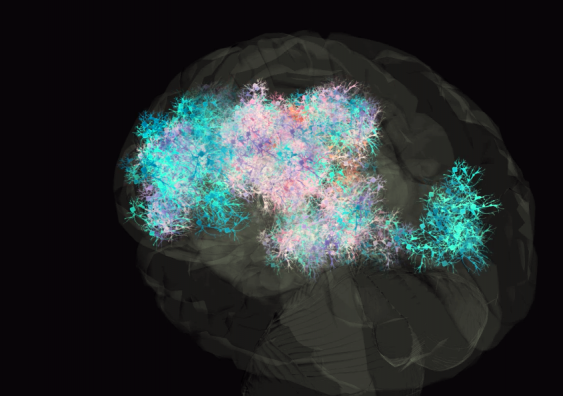 Photo:奧斯特瓦爾德教授團隊進行的腦部掃描,作為一個人體驗了同一棟建築的不同方面。(奧斯特瓦爾德教授團隊提供)
Brain scan undertaken by Prof. Ostwald's team as a person experiences different aspects of the same building.(Supplied/Prof. Ostwald's team)
Citation:
How new technology can improve buildings for people with dementia
https://newsroom.unsw.edu.au/news/art-architecture-design/how-new-technology-can-improve-buildings-people-dementia