:::
| Promoting a mine-free Myanmar
In 2014, Eden Social Welfare Foundation recruited volunteers to travel to Southeast Asia and work with local anti-landmine NGOs for 3 months. Three volunteers went to Vietnam, Cambodia and Thailand respectively and helped deliver resources to disabled people in remote areas. They also helped local NGOs with international grant application and wore anti-landmine t-shirts as they rode on bicycles, raising public awareness on banning mines.
Through civic society interactions and the work of young volunteers, we strengthened the cooperation between NGOs in Taiwan and Southeast Asian countries as we work to build a homeland without landmines.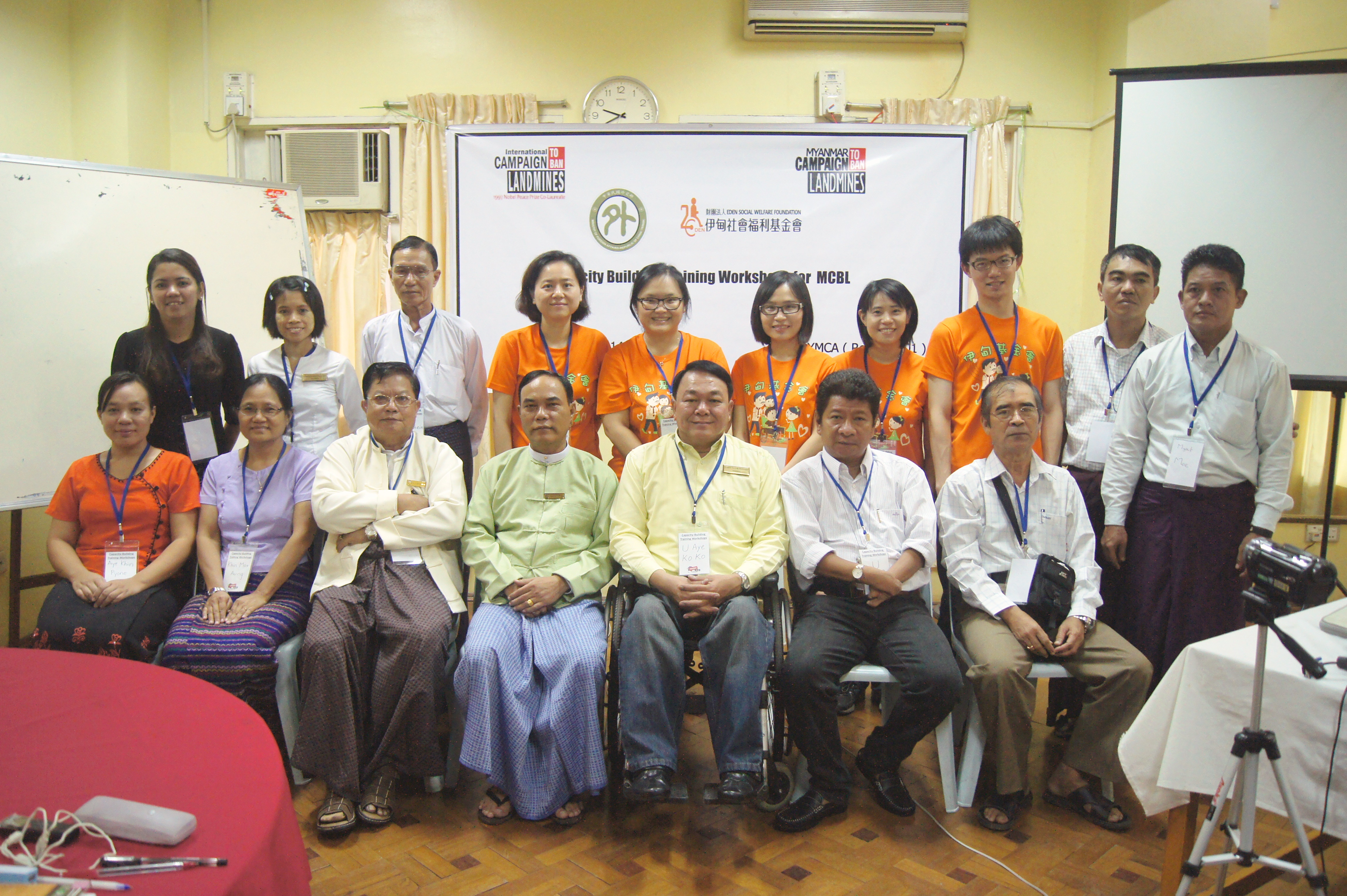 In August, 2014, our volunteers formed a instructors' delegation to Myanmar to teach a workshop for NGOs that work to remove landmines. Our instructors designed many teamwork-based activities to build effective teams. Participants learned the importance of teamwork through the activities. The workshop also included actual strategies and skills to promote the issue, teach participants how to write fundraising plans and some conflict resolution skills. We hope our volunteers from Taiwan would be able to train a group of anti-landmine instructors in Southeast Asia and promote the importance of international humanitarian issues in those countries.
Sharing and exchanging experiences is an extremely important link to cooperation between organizations, especially in international collaborations. In 2016, the Ministry of Foreign Affairs Taiwan R.O.C. supported Eden Social Welfare Foundation to represent to Ban Landmines-Cluster Munitions Coalition (ICBLCMC) in a project called "Agreement on ending the Scourge of Landmines in Asia-Pacific to Save Lives and Promote Sustainable Developments: Implementing Local Capacity-Building and Strengthening Regional Cooperation." This project was a continuation to the one week training in 2014 and was designed in response to the needs of local organizations in Myanmar. Through such interactions, the government hoped to strengthen regional cooperation among NGOs in Taiwan and other Southeast Asian countries.
In the future, Eden Social Welfare Founfation will continue to work towards the dream of a "landmine-free homeland". In 1997, Eden joined ICBL and started campaigning Taiwan. We pushed for the legislation of the "Antipersonnel Landmines Regulations Act", which was enacted in 2006. As of June 14th 2013, Taiwan has eradicated all landmines. Therefore, our next step is to push our government to pass legislations in accordance to the Ottawa Treaty, officially banning the use of antipersonnel landmines altogether.