"Thanks to Eden, today is a very good day" Iron Mom of Hsiao Han said. In response to the needs of persons with disabilities, Eden Foundation invited our service users, their family members and corporate volunteers to join Eden Annual Banquet at noon on 13th, Jan. at the Home for the Disabled, Bureau of Social Affairs Kaohsiung City Government. The 30 tables feast were filled with exciting talent shows, fun games and video clips of Home for the Disabled on the stage, creating a festive atmosphere.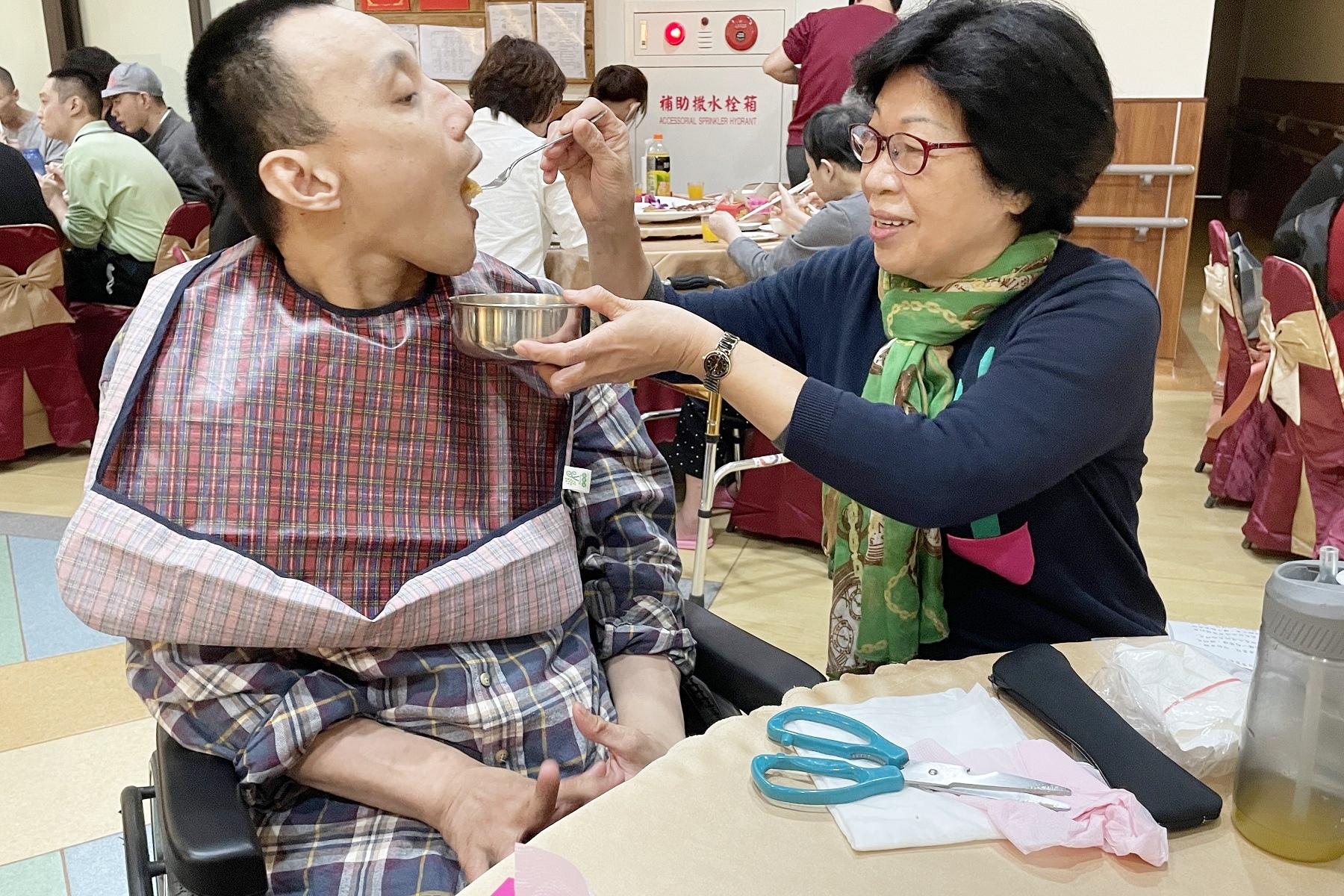 Photo: Iron Mom Liu Yu-mei participated in the Eden Annual Banquet to accompany her son for the New Year.
New Year's Day is a time for family reunion, but for the persons with disabilities who living in institutions, physical challenged, family affairs and transportation factors hinder their dream of have the year-end meal with their family. By inviting their family members to the institution and having a loving and rich meal together, it is a long-awaited family time for them, even though it only lasts for a few hours.
Hsiao Han (pseudonym), a 42-year-old man with cerebral palsy and severe multiple disabilities, has been living on the second floor of an old apartment without an elevator for years, and every time he goes out, it is a difficult battle. His mother needs to carry Hsiao Han's wheelchair to the car first, let Hsiao Han sit on the stairs enable his mother to help move his feet, slowly move to the ground floor, each trip needs to go through 21 steps, unarmed transfer process has happened to both sides accidentally fall accident. The mother of Hsiao Han laughingly called herself an "Iron Mom", although suffering from cardiovascular disease and spinal injuries, but worried that Hsiao Han had no one to take care of, has not been spinal surgery, worried that she suddenly collapsed one day, Hsiao Han still have no place to live.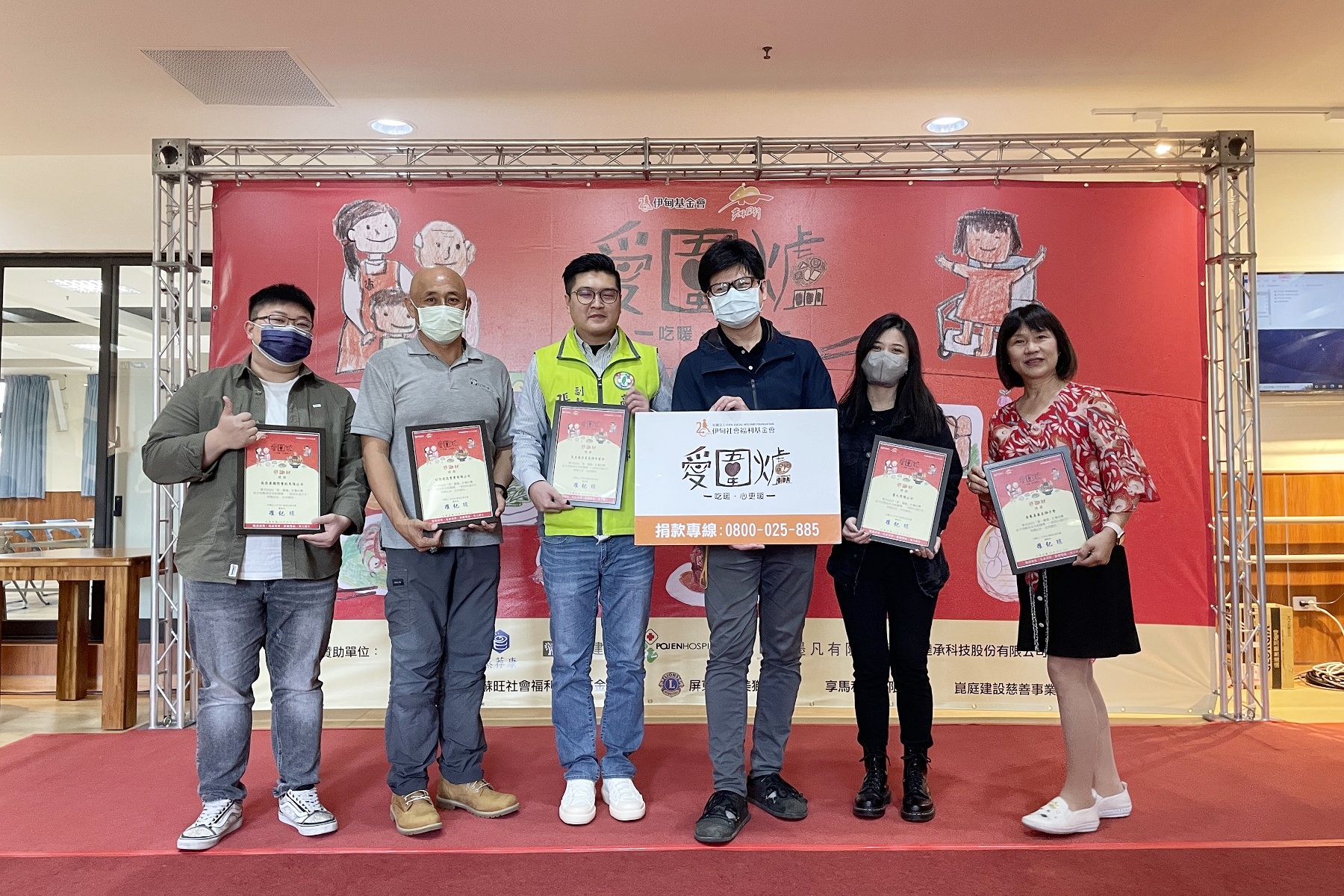 Photo: Mr. Cheng Hsiung-Yuan, the director of Home for the Disabled, presented a Certificate of Gratitude to the supporting corporates.
In January 2021, Hsiao Han's mother brought him to the Home for the Disabled. She was happy to find a professional care provider for him, but worried that her son would not be able to adapt to the 24-hour services. After learning about the services and her son's adaptation status, she finally put her mind at ease and became an Angel Mom Volunteer to serve the users of the Home for the Disabled. In the Eden Annual Banquet, the hot meal on the table, Hsiao Han's mother holding Hsiao Han's hand, the two of them with happy expressions written on their faces.
Photo: The Eden Annual Banquet at the Home for the Disabledwith 30 tables feast.
Since 2014, Eden Foundation has been organizing "Annual Banquet Event". This is the 10th year in a row, Eden will hold 24 Annual Banquet Events before the Chinese Lunar New Year Eve, helping nearly 3,000 service users to reunite with their families and delivering New Year's dishes to 283 seniors with limited mobility or persons with disabilities. Donations can be made on the Eden official website or by calling the toll-free number 0800-025-885.