Taiwan has a rapidly aging population. In 5 years, the seniors aged 65 and above will take up more than 20 percent of the super-aged society. Sub-replacement fertility caused by the changing of the population structure is becoming more crucial in recent years.
Eden has continued to represent and speak up for disprivileged, such as persons with disabilities and seniors. The Conventions on the Rights of Persons with Disabilities (CRPD) Article 9: Access for All, indicates that parties shall make sure persons with disabilities and seniors have better access to things in all areas of life. As a result, to help the general public to learn about the importance of these accessibility facilities, the seventh Barrier-Free Life Experience & Festival took place, and the theme was 'Life Factory.' Through various types of interactive devices, props, and games, people could experience obstacles or challenges we may encounter in different stages of our life, both of the past and the future. The goal is that after the general public has experienced these challenges on their own, they could put themselves in others' shoes, consider the world through a different perspective, and thus support the barrier-free environments along with Eden.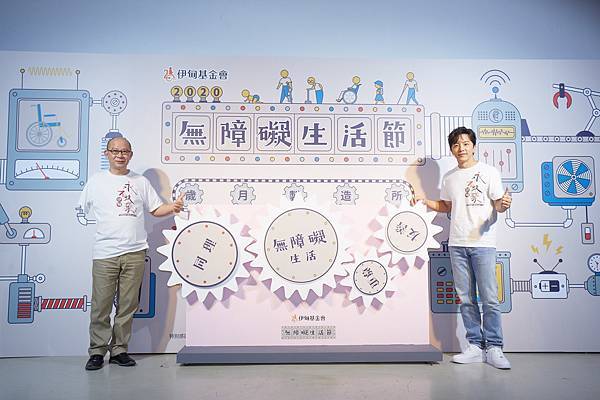 (BenLin, -CEO (left) and charity ambassador Kunda at the launch ceremony of the seventh Barrier-Free Life Experience & Festival.)

This year, Eden invited actor Kunda to serve as the Barrier-Free Life Experience & Festival's charity ambassador, experiencing the workplaces in "Life Factory." Kunda explained that he sometimes uses up his stamina when shooting outdoor TV shows or quiz shows, and he understood that maintaining physical strength is the key to winning the games. However, after experiencing many game levels, he realized that it is particularly difficult for persons with disabilities to accomplish daily activities without barrier-free environments. There is a need for the public's support and care of barrier-free environments. Eden hopes to create a friendly and accessible environment for everyone by first inviting people to consider others' perspectives.
The CEO of Eden Social Welfare Foundation, Mr. Ben Lin, indicated that Eden has served both physically and mentally challenged individuals and seniors and has been promoting the importance of barrier-free environments for almost 40 years. Eden Barrier-Free Life Experience & Festival has been held in Taiwan for seven years, attracting more than 460,000 people to visit and join in on the experience. The goal is to raise public awareness of the necessity of accessible environments. On top of this, it is also critical to evoke empathy in public.
(Through virtual reality devices, Eden Barrier-Free Life Experience & Festival showed the perspective of wheelchair users Through the devices)
Mr. Lin emphasized that the theme of this year's festival was "Life," which was to remind everyone that we are facing the inevitable aging of the population as fewer babies are born each year. As humans, our bodies' capabilities gradually decrease as we age, and our age could render our minds restless and lonely. But if we work hard to create a loving and friendly environment that is willing to support each other, we will live in happiness while aging.
| | |
| --- | --- |
| | |
| (The game level of 'The Eye's secret' uses pictures that stimulate eye or vision deterioration to let the public understand more about different levels of visual impairment) | (The game level of 'Hand disco' lets the public write on the shaking table. People could experience the inconvenience of having trembling and weak hand muscles that seniors often encounter) |