Translator: Niny Yang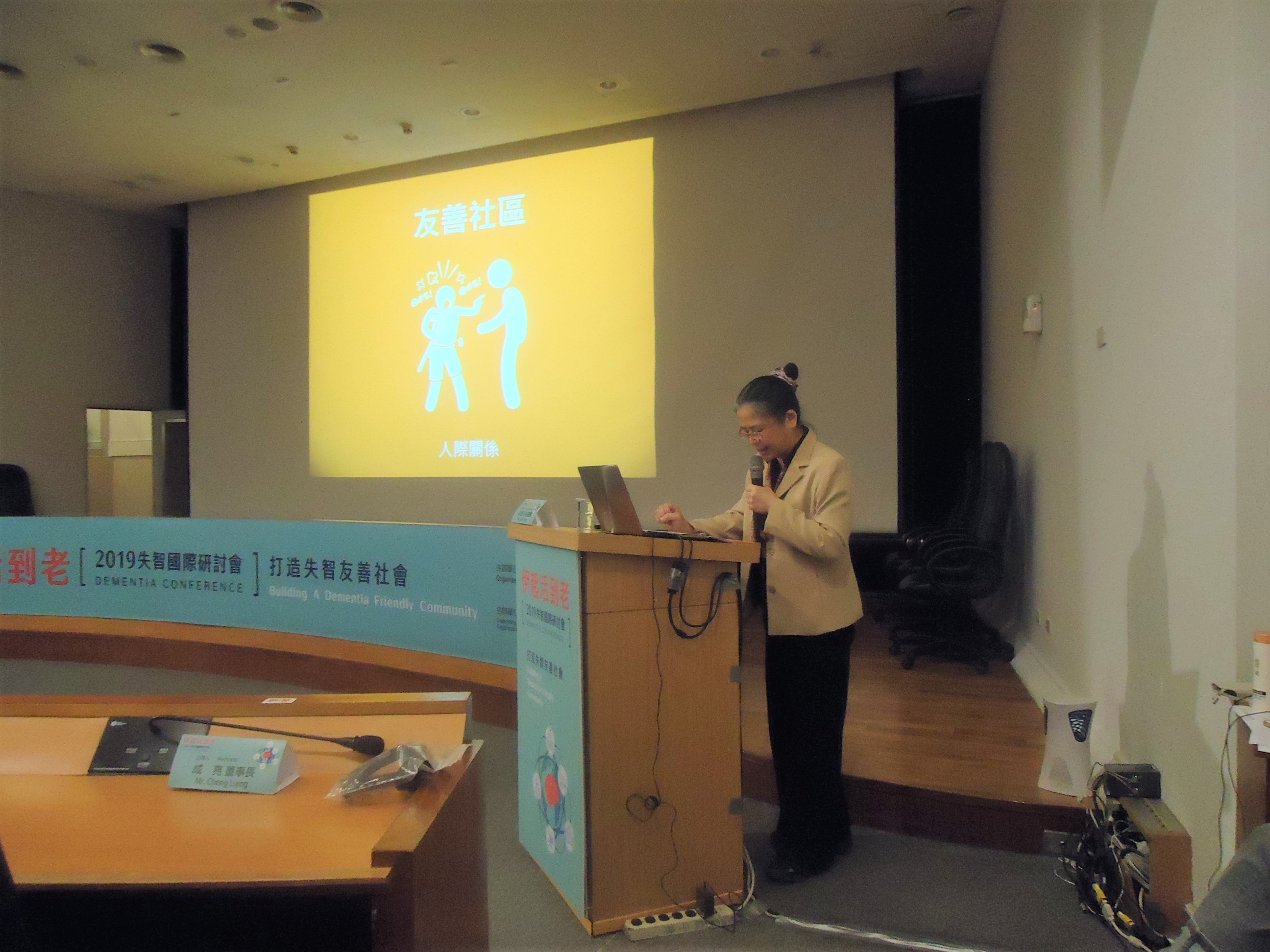 This May, Eden Social Welfare Foundation hosted the "2019 Dementia Conference" and invited experts from all over the world to share their views on the topic. Li-Yu Tang, from Taiwan Alzheimer's Diseases Association, has been working unanimously on the topic for 30 years. In the conference, she shared her efforts in promoting a dementia friendly society.

According to ADI, Alzheimer's Disease International 2018, there were around 10 million people with dementia, which means that on average, one person suffers from dementia every 3 seconds. Population statistics from the Ministry of Interior also indicate that around 280 thousand people suffered from dementia in 2018, equating to around 1 out of every 84 people. According to this statistic, dementia is a global issue. Taiwan especially suffers from a severe aging population crisis. We cannot keep away from the issue.

Dispel the Myth of Dementia as a Disability

"Considering the annual increase of 10k people, Taiwan's demented population is expected to soar up to 600k people by 2050. Each of us could become part of the growth curve." Li-Yu Tang earnestly spoke, "I wish to make that day arrive later, so we must prevent it starting from now."

With the increasing number of people with dementia and patients' age levels decreasing day by day, establishing a dementia friendly society is urgent. However, many aspects involve influencing society on a large scale. "It is a common myth that dementia is a disability," said Li-Yu Tang. "Citizens do not understand dementia and often mistake dementia for requiring wheelchairs for movement or staying in bed all the time. In fact, most patients are able to move normally and have no problems besides recognition deterioration. Currently, 90% of dementia patients live in neighborhoods, and although it will require a huge amount of manpower and effort, it is urgent to create a supportive environment for them.

Furthermore, it is not uncommon for family members to quit their jobs or to retire early in order to take care of their relatives. The need for long-term care causes a huge impact on the entire country's economic, labor, and social stability. Nowadays,
Taiwan is facing a decreasing birth rate, with which less people will be able to contribute to long-term care in the future. It will be increasingly difficult to provide sufficient care for those who suffer with dementia.

Globally Unite to Create a Dementia Friendly Environment

In 2017, the World Health Organization, known as WHO, announced a global action plan on the public health response to dementia with seven areas of actions, one of which involves promoting a supportive attitude toward dementia. WHO has created a global observation platform to track whether all countries are promoting dementia related events, raising citizens' awareness about dementia, creating a dementia friendly environment, etc. They plan on providing an important indicator for dementia friendly countries.

According to Taiwan's official announcement about the
"Taiwan Dementia Policy 2.0," Li-Yu Tang has summarized three main policy objectives:

First, 70% of dementia family caregivers will receive support and caring training.
Second, 70% of the dementia population will receive a diagnosis and service.
Third, 7% of the public will be educated and encouraged to develop a receptive attitude toward dementia.

"Regarding the country policy, it also outlines creating a society that will help prevent or delay dementia, respect people with dementia, and develop patients potential independently." Li-Yu Tang mentioned that the concept of caring for patients by feeding and bathing them is outdated now. Instead, the future path of demented care is to guide patients to develop their potential rather than deprive them of their independence.

Take Action to Create a Dementia Friendly Atmosphere

In order to help demented people integrate into society, families need to voluntarily establish a caring neighborhood. Taiwan Alzheimer's Diseases Association contacted local organizations in the Wanhua area to communicate with businesses and self-government associations. The village chief provided educational lectures to citizens in various villages, informing people about dementia. In addition, the association trains volunteers as commissioners to visit stores in neighborhoods, assist stores to be dementia friendly, and organize events with local dementia friendly stores during International Dementia month in September. They hope to gradually expand their reach from village to village so demented people can live safely inside neighborhoods.

We must establish a neighborhood for demented people to live safely and soundly.
We must guide the demented people. We must not think about what they cannot do, but encourage them to participate in building a dementia friendly neighborhood.
One day, when we are faced with dementia ourselves, we will be able to use the system for our benefit. Helping others is helping ourselves. We must build a dementia friendly community for our own sake, when we may be demented in the future.