In order to realize the spirit of CRPD's community participation and convey the concept of social inclusion and integration, Eden Foundation organized the "Eden's Common Good Camp" for the first time this year. Today on 18th of July, 10 youth volunteers led 15 students from the junior high section of the Waldorf Education Experimental Elementary School in Chao Tso, Yunlin, a partner of Eden's Elephant Circle Project, and accompanied 28 service users of Yilan Education and Nursing Institute in the Taipei children's Amusement Park. Through activities and volunteer services, the volunteers had the opportunity to which allowed them to interact with persons with disabilities and learn about the diverse needs of the society, so as to create a friendly and caring society without barriers.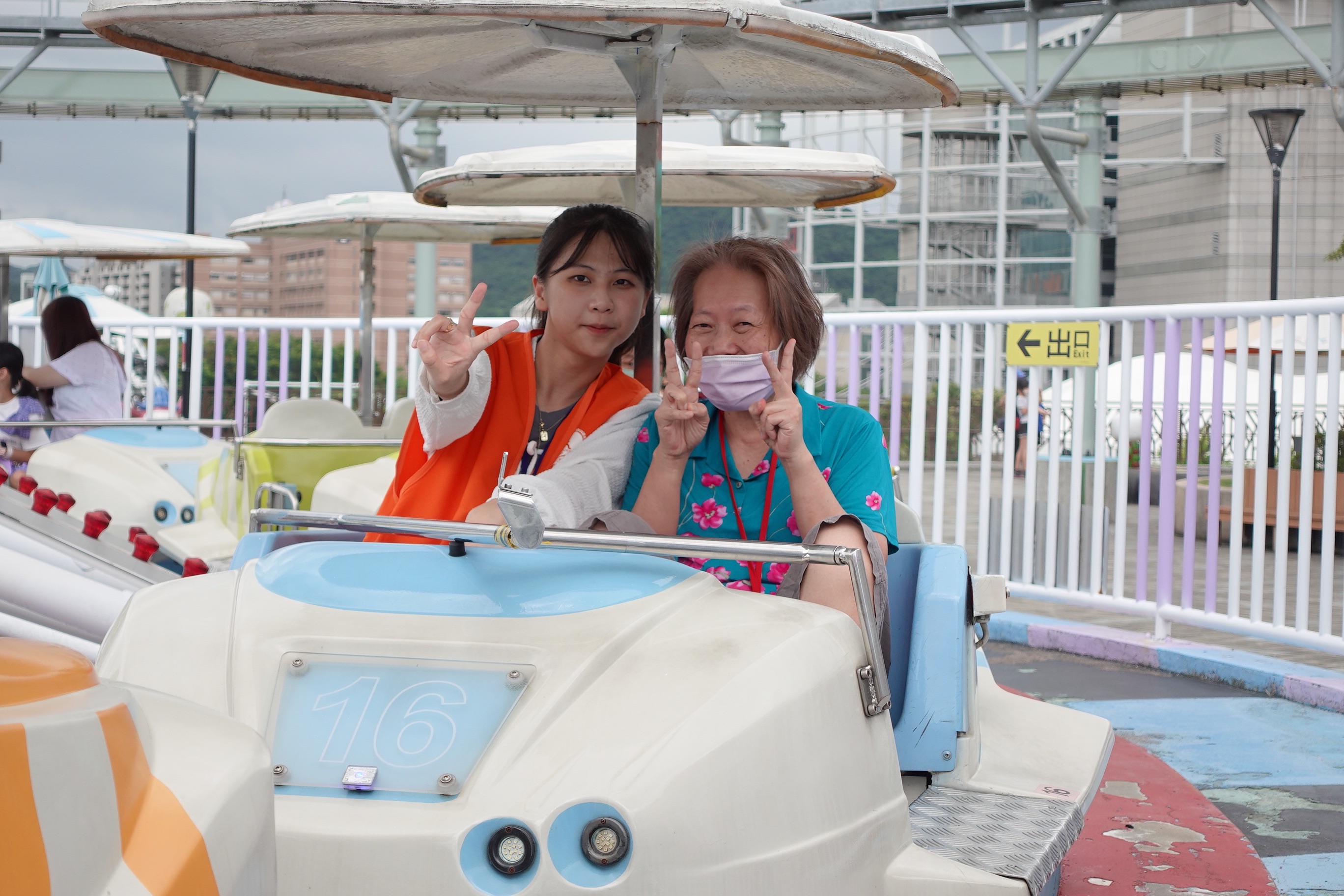 Service users of the Yilan Education and Nursing Institute(right) and volunteers (left) pose for a photo and enjoy the fun brought by the amusement facilities.
Traveling enriches the mind and relieves stress for ordinary people, but for persons with disabilities, travel is often out of reach due to tangible and intangible barriers that prevent them from fully participating in social activities. Eden Yilan Education and Nursing Institute's social worker, Ms. Yin-Chi Chang, said that due to the epidemic, the Taipei Children's Amusement Park is the trip that the service users have been missing for three years, and they are all very looking forward to experiencing the amusement facilities and enriching each other's life experience in the companionship of the volunteers.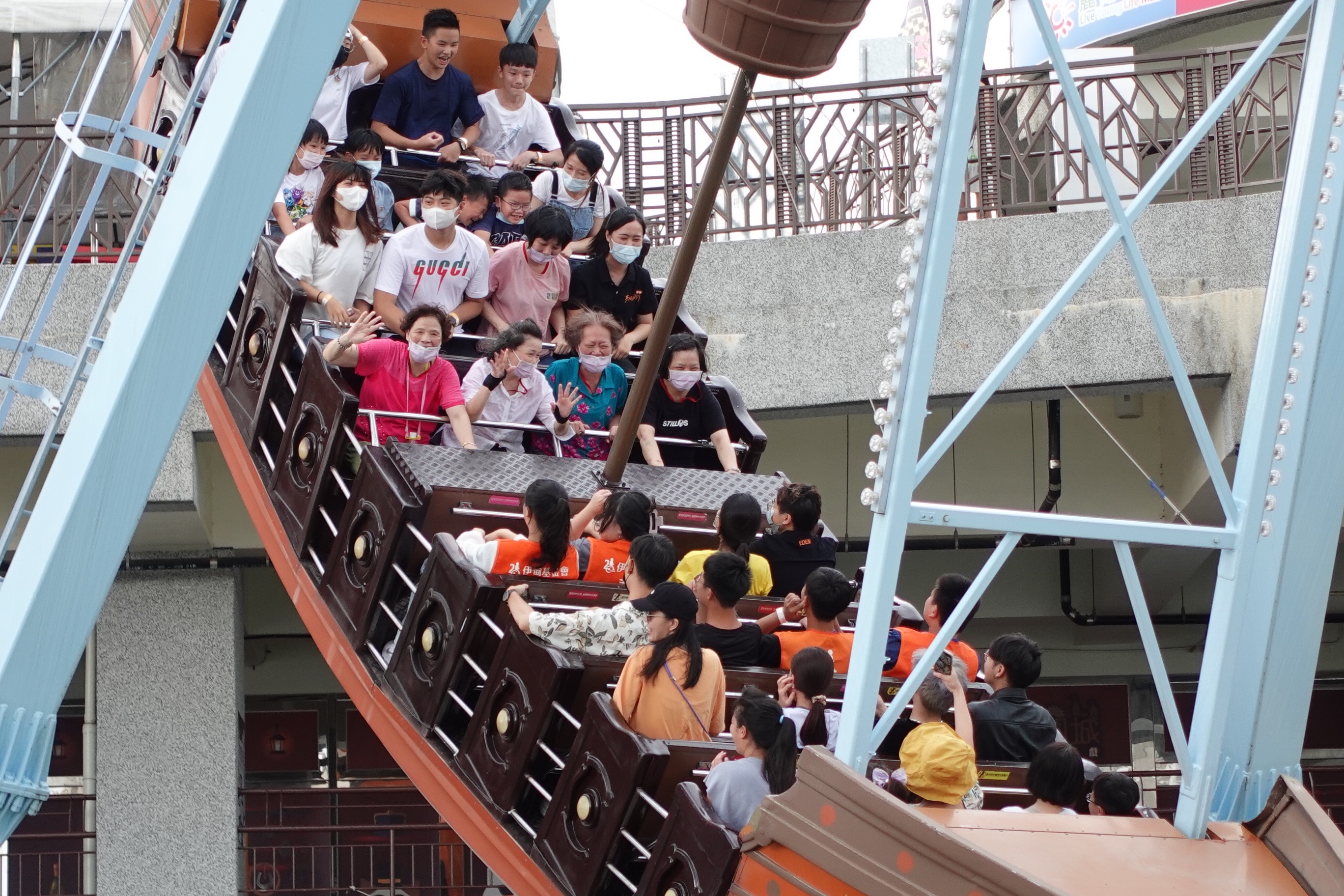 Service users of the Yilan Education and Nursing Institute(first row, top center), accompanied by volunteers and social workers, experience the excitement of swinging facilities.
The 15 of the volunteers were students of junior high section from Yunlin's Chao Tso Elementary School, who created a different value out of the same summer vacation by volunteering their time. One of the student volunteers, Hsin-Chieh Lee, carefully asked the service users about the amusement facilities they wanted to take, and thoughtfully held their hands as they slowly walked up to the facilities and played together, making the interaction very warm and touching. She shared that because she has the family member with disability, her mother has guided her since she was a child on how to get along with persons with disabilities, and volunteering this time has also made her understand that every person with disability has the right to choose, and that she should learn to respect and understand them, and she also expects to have the ability to provide more support to them in the future, and to become a good friend of theirs.
Student volunteer Hsin-Chieh Lee (right) thoughtfully held the hand of a service user (center) as she slowly walked up to the facility, making the interaction very warm and touching.
In recent years, the Eden's Elephant Circle Project has not only focused on the character, education, nutrition and after-school care of disadvantaged students, but has also led children to meet persons with disabilities. Mr. Hong-Bin Liao, Principal of Chao Tso Elementary School said that in addition to understanding the characteristics and needs of persons with disabilities through the life education curriculum at school, volunteering activities allow students to actually interact with disabilities service users, promoting their identification and acceptance of different communities, reducing stereotypes and unfriendly behaviors, and further developing empathy for the underprivileged groups, which is believed to have a positive impact on the students' experience of life.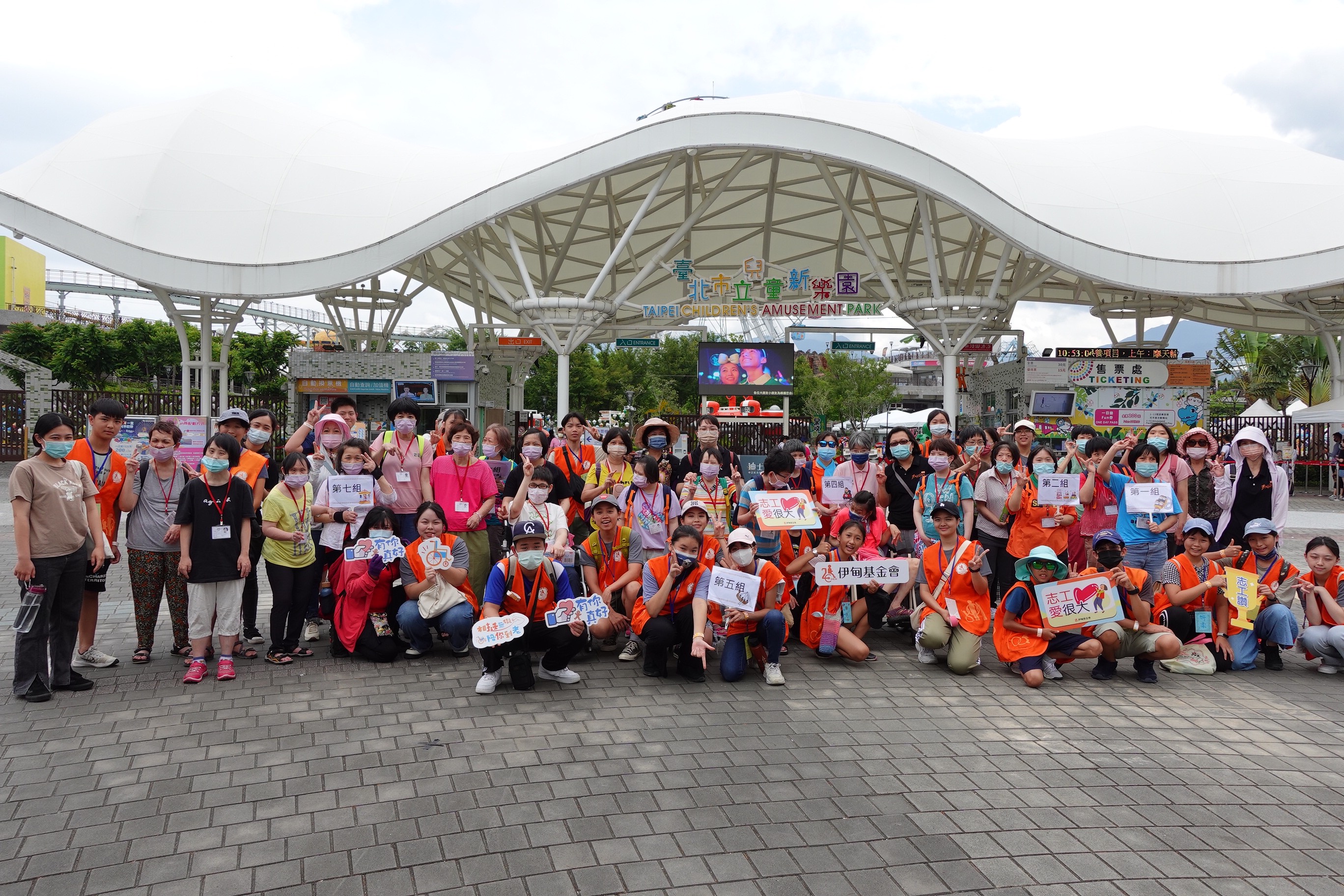 Eden organized the "Common Good Camp" on the 18th of July, 10 youth volunteers led 15 students of junior high section from Chao Chu Elementary School to accompany the service users in the Taipei children's Amusement Park.
Mr. Hsiao-Wei Chu, Director of Eden's Volunteer Activity Center said, the core of the camp emphasizes on practical work and reflection, through learning by doing and doing by learning, so that students can understand the meaning of life in volunteer service, and accumulate soft power that is not taught in textbooks; at the same time, we also hope to continue to promote the spirit of CRPD, so that the community can have a better understanding and knowledge of persons with disabilities. Eden Volunteer Activity Center organizes various service camps every year. Through volunteer services, we can help others, cultivate empathy, and gain different life experiences for each other. If you are interested in learning more, please contact 103eden@gmail.com or visit Eden's official website and Facebook on Eden Volunteer's fan page.