In order to let the Slow-Flying Angels experience the Hakka blue dye culture and to celebrate Mother's Day, 20 Slow-Flying Angels and their mothers were invited to experience the blue dye silk scarf together on May 5 at ChiShan Early Intervention Service Center. The Hakka Blue Dyeing instructor came to the center to conduct the parent-child experience and invited the children to present the finished works to their parents to express their love.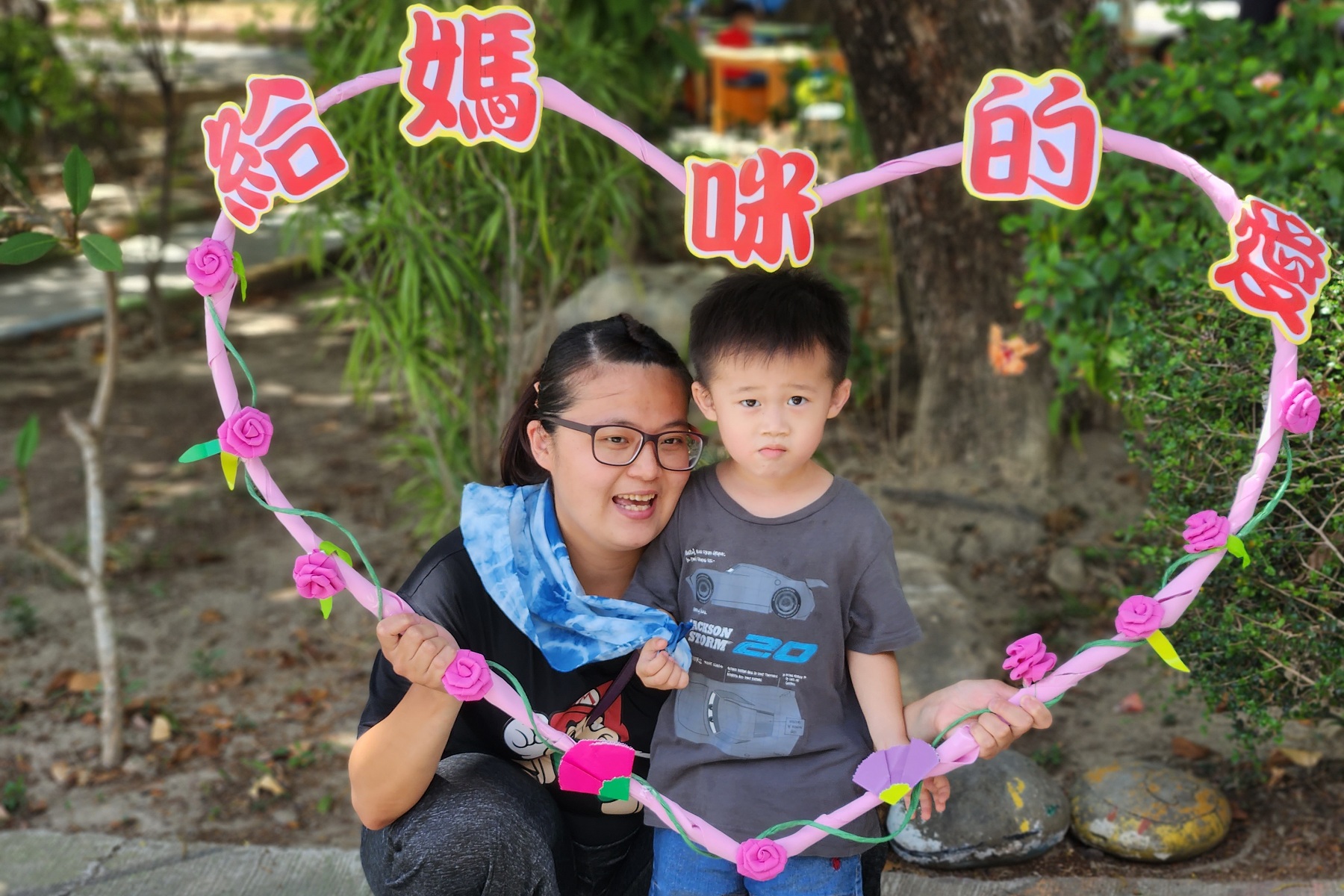 Slow-Fly Angel Little Meng (right) personally put a scarf around her mother for take a photo together
The slow-flying angels and moms followed the steps shown by the instructor, soaking and turning the silk scarf in the dyeing vat gently, and letting the color developing on the fabric. Then the blue dyeing silk scarf is finished after an hour. Little Meng, a slow-flying angel, put the scarf around her mother and whispered in her ear, "Mommy, I love you"! The sweet words can make Mother Meng's day.
Little Meng (a pseudonym), a Slow-Flying Angel who lives in ChiShan, was two years old when his mother noticed that her child was less verbal than his peers and used to scream when he needed something or expressed his emotions. Mother was bothered by this and after a joint assessment by the hospital, she confirmed that her child had the speech developmental delay, so she brought her child to the ChiShan Early Intervention Service Center for day care services.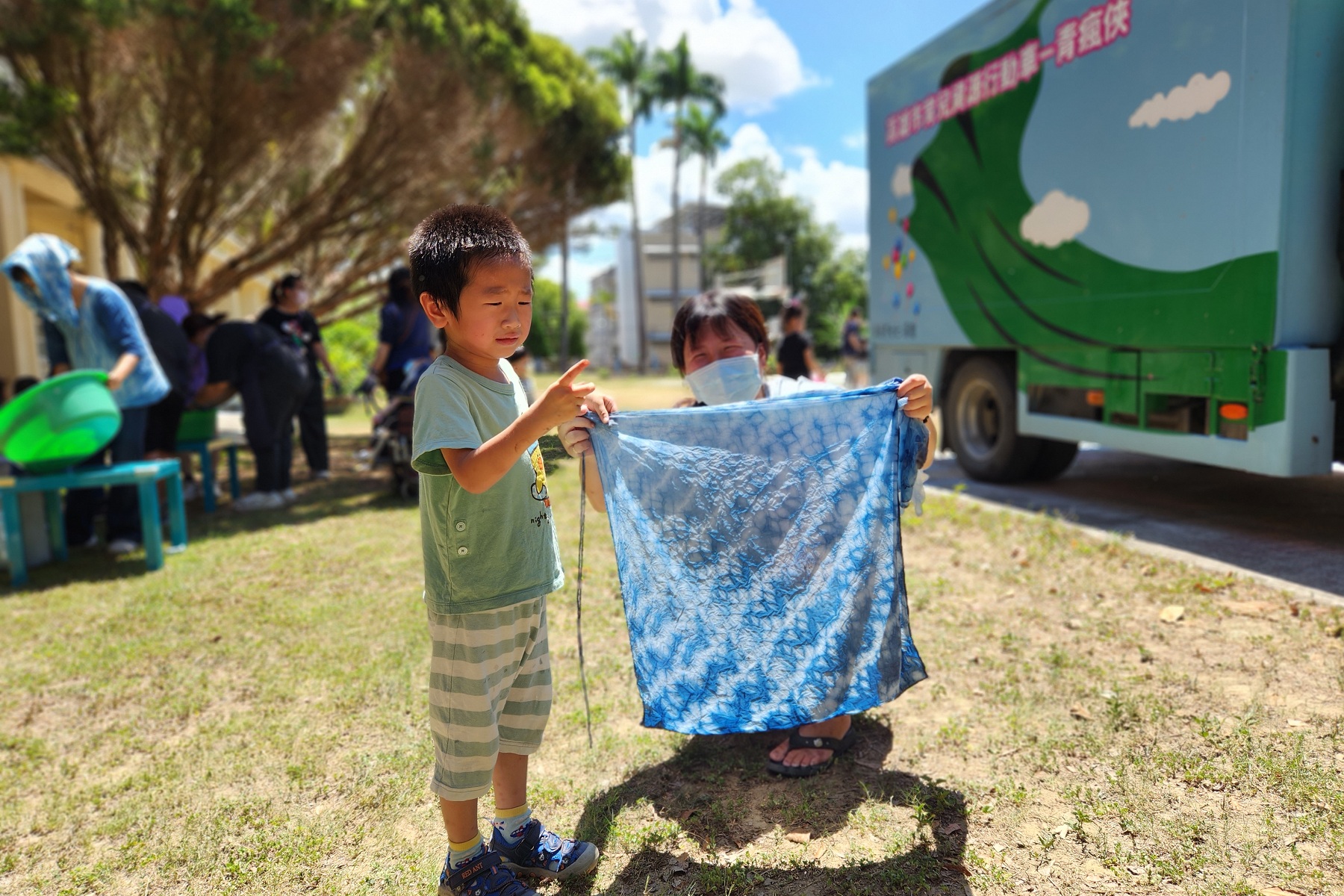 Unwrap the dyed fabric to reveal beautiful patterns
Little Meng is now three and a half years old and is learning to follow the rules and instructions at the Early Intervention Service Center. His emotional stability has improved significantly, and he no longer uses screaming to express his needs. He can take the initiative to express his needs or seek help under the guidance of the educare giver. Mother Meng said she was surprised and delighted when her child called out "mommy". As a new mother, she often feels helpless on the parenting journey, but through Eden's parenting strategies, can tell her child's progress and the pressure of caring for him is much lighter.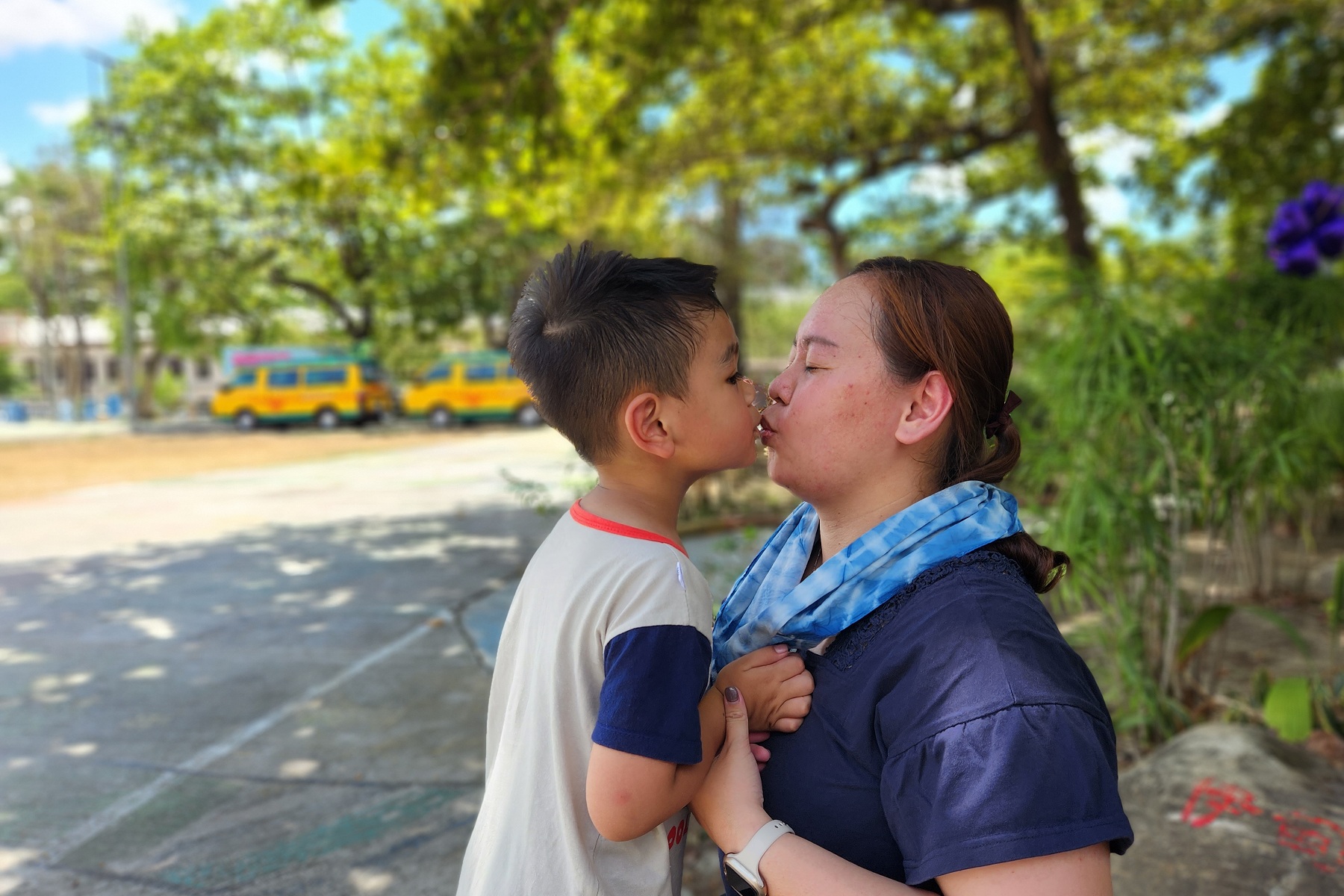 Slow-flying angel gives a kiss to mommy to says love you
The Director, Ms. Ya-Fang Hsieh, ChiShan Early Intervention Service Center of Eden Foundation said that the ChiShan Early Intervention Service Center is entering its 25th year this year and has been expanding into LiouGuei, JiaSian, and MeiNong to set up child development community service sites, promoting integrated education, residential care, diversified teaching, community-based early intervention services, dental care in remote areas and developing intergenerational learning services. We hope that through the community integration curriculum planning, we can help our children to understand the community and give back to the community. For more information on early intervention service, please visit Eden's official website or call us at +886-7-661-8106.