Eden Chi-Neng Disability Care Center in Hsinchu is entering its 14th year this year, it is a 24-hour care institution for persons with mental and intellectual disabilities in Hsinchu City. It provides a variety of life training and care services for nearly 30 persons with moderate mental disabilities or multiple disabilities combined with intellectual disabilities, creating a warm and homelike environment for them. Ms. Tsai-Hui Hsu, one of the Care Attendants joined Eden six months ago and has been serving the persons with disabilities in her young age. And we can see the personality as passion and carefulness in Ms. Tsai-Hui Hsu.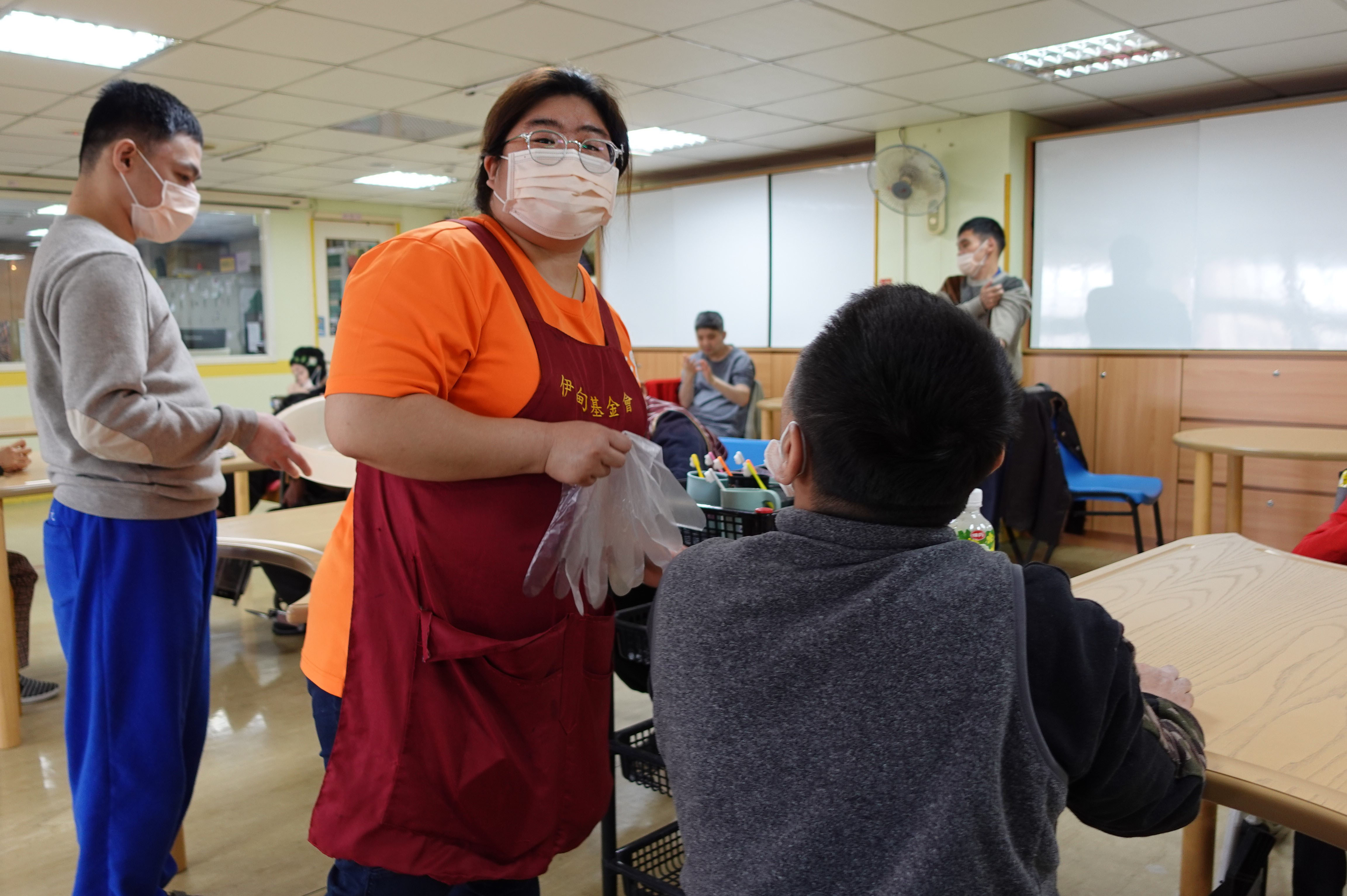 Ms. Tsai-Hui Hsu, the Care Attendants joined Eden six months ago and has been serving the persons with disabilities in her young age.
34-year-old Care Attendant, Ms. Tsai-Hui Hsu, started working in a residential institution for persons with disabilities four years ago. She moved to Hsinchu last year because of her marriage. With many job opportunities in Hsinchu, she decided to work in Eden. Since she concerns to get alone with colleagues well is really important, she considers the working atmosphere at Eden is very good, not only do her colleagues support each other, but also Eden encourages and recommends staff go for the further education when there is the opportunity, which is very much in line with her career planning and expectations.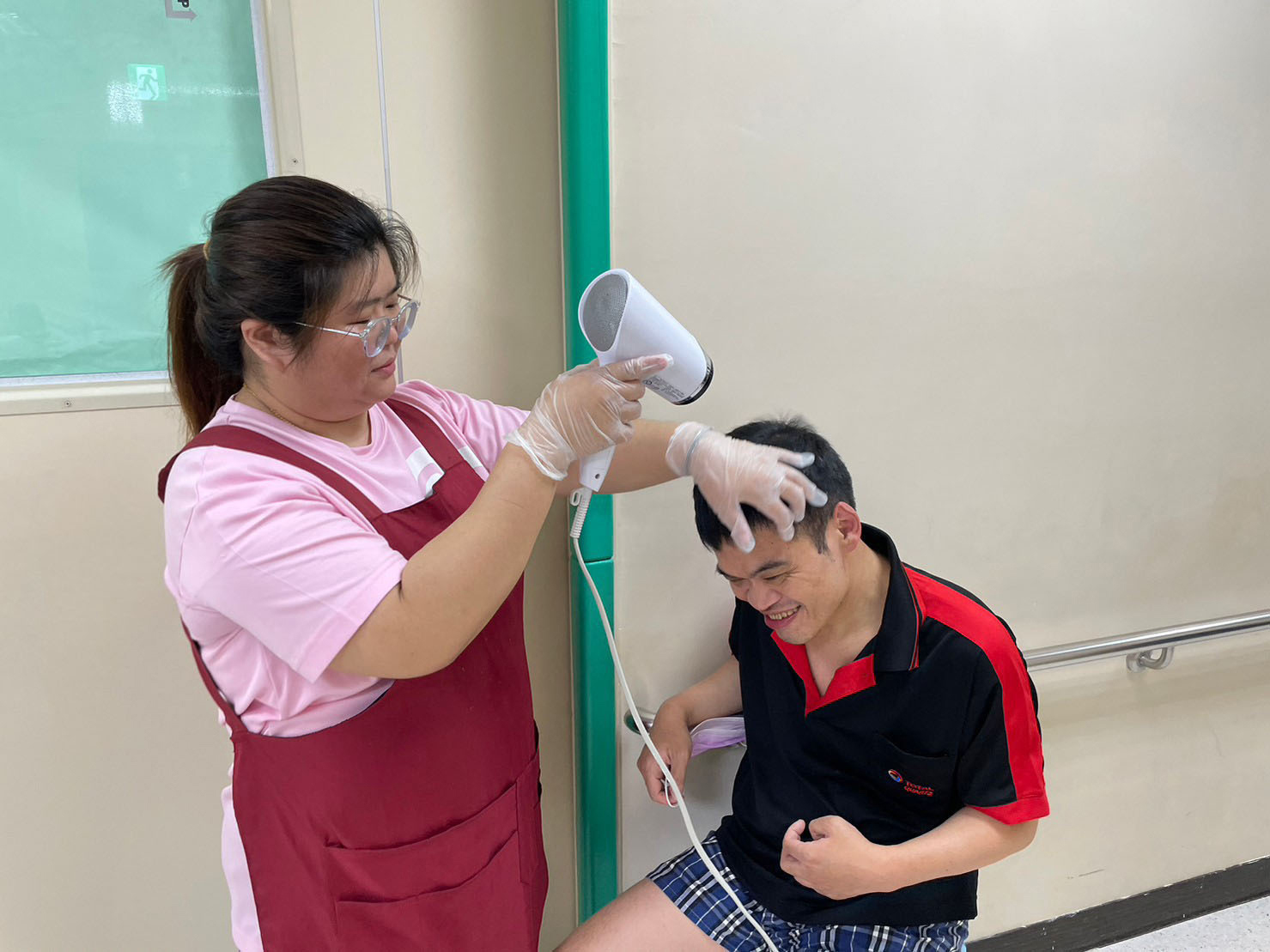 Provided with the family-like care service, Ms. Tsai-Hui Hsu gradually saw the progress of persons with disabilities.
Ms. Tsai-Hui Hsu studied in the Department of Life-and-Death Studies in university, during her internship, she heard many stories about the deceased and their families, and learned that many people still have many regrets to overcome before their lives pass away, which makes her feel very sad. As a result, she became more determined to accompany the persons with disabilities to face the obstacles in life and solve the problems in life. "In fact, we are all the same!" Tsai-Hui said, persons with disabilities are the same as we are. They need to eat and have the same inner desires and needs, but they just need a little more help.
"I see the need in the service, and I understand the importance of companionship. While she is growing up, she watching her mother take care of the seniors in the family, Tsai-Hui has learned that "care and companionship" are necessary and important. As a Care Attendant, it is very fulfilling and rewarding for her to help the family members of service users to share the burden of their lives and to let them notice the small progress of their family with disabilities when they return home. She also thanks her husband and family members for their support, which allows her to give her best performance in the workplace and makes every work experience an important part of her life.
"If you look at them carefully, you can hear and see their needs." For those persons with disabilities who cannot express themselves verbally, she can understand what they want to convey by just seeing a gesture or a look in their eyes. Even furthermore, she can easily feel who is in a bad mood and who is really enjoy the meal today. Ms. Tsai-Hui Hsu hopes that she can continue to improve herself in the future and gain a deeper understanding of the care skills of persons with disabilities then recovering their rightful abilities. So that she can help the service users move towards a self-independent, dignified and quality life through her services.
Ms. Tsai-Hui Hsu said that persons with disabilities are just like us, they just need a little more help and companionship.
Persons with disabilities are unable to take care of their daily needs on their own because of their physical challenged. Such as feeding, bathing, toileting, showering, sleeping, etc., which are common matters to ordinary people, but are daily hardships for them. Under Eden's program, even the persons with severe disabilities, they have the right to live a self-choice and self-determination life, to choose what they want to eat, what activities they want to participate in, and where they want to play, without being bound by institutional life.
"Help others and make a success of yourself! " With Youth Day coming up, Eden Foundation is calling on enthusiastic youth and job seekers for re-employment to join the ranks of helpers. At present, there are positions available at the Chi-Neng Disability Care Center in Hsinchu, such as clerical worker,administrative staff, drivers, nurses, therapists, educare givers, and care attendant. For inquiries, please visit Eden's official website or the websites of job bank and contact us at +886-3-562-8848.