On October 7th, the most anticipated workshop "2022 Taiwan-Myanmar Early Intervention Workshop" took place. Due to the covid-19 pandemic regulations, the workshop had to be held online via Zoom meeting. This event was organized by Eden Social Welfare Foundation, Taiwan in collaboration with Eden Centre for Disabled Children (ECDC), Myanmar. The speakers for the workshop included Mr. Tha Uke, Managing Director and Ms. Naw Zarni Saung, Manager of the Rehabilitation Department from Eden Centre for Disabled Children (ECDC); Ms. Meng Chun TSAI, Section Chief of Feng-Shun Early Intervention Centre and Ms. Feng Tsun CHOU, Director of the Chia-Yi Early intervention Centre from Eden Social Welfare Foundation.
At the beginning of this workshop, it was our honor to have Mr. Tha Uke to share the opening remarks. Mr. Tha Uke thanked EDEN not only for supporting children with disabilities in Myanmar through ECDC, DDI & IDDC for more than seven years now but also for creating and giving an opportunity to learn in many ways such as joining international workshops, training and sharing resources, etc. Equally grateful, we then had Mr. Benjamin LIN, Vice CEO of EDEN share the opening remarks to show appreciation to all parties involved and anticipate for deeper mutual collaboration in the future.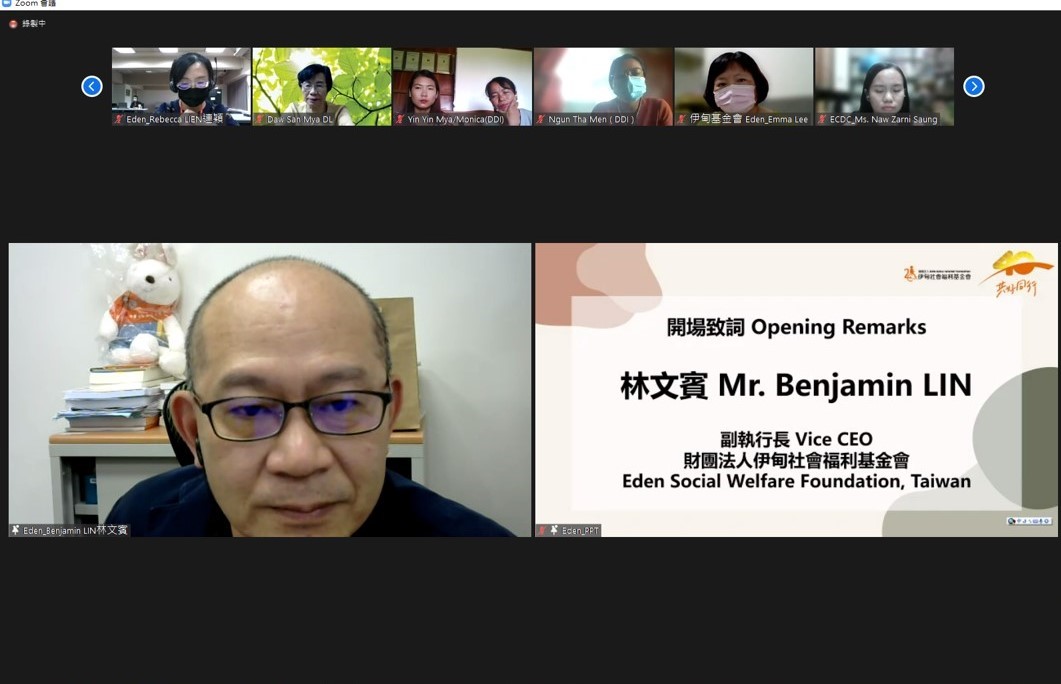 Photo: Opening remarks from Mr. Benjamin LIN, Vice CEO of Eden Social Welfare Foundation
Four honorable guest speakers talked about the initiatives they have taken at an organizational level to provide early intervention services to children with special needs and their families, especially during the pandemic. Early intervention is the word used to define the assistance and supports offered to families with infants and young children who have developmental delays and impairments. Depending on the child's and family's requirements, it may involve speech therapy, physical therapy, and other sorts of treatments. Some of the worth mentioning early intervention initiatives taken by ECDC are: lesson planning, awareness of children's characteristics among instructors, reciprocal relationships between children, parental care, and professional communication among units. Parent-Child Integration Games were then introduced by Ms. Meng Chun TSAI from Feng-Shun Early Intervention Centre, EDEN to promote equity and support among parents. Parents love the interactive time provided by the caregivers while children develop their courage and self-assurance. Because of the pandemic, Eden took a different approach at Feng-Shun Early Intervention Centre, such as daily posts on Facebook of instructional videos with picture book extension activities, learning packages under the pandemic category, a picture book video for story time each day, and advancements in static thought are just a few examples.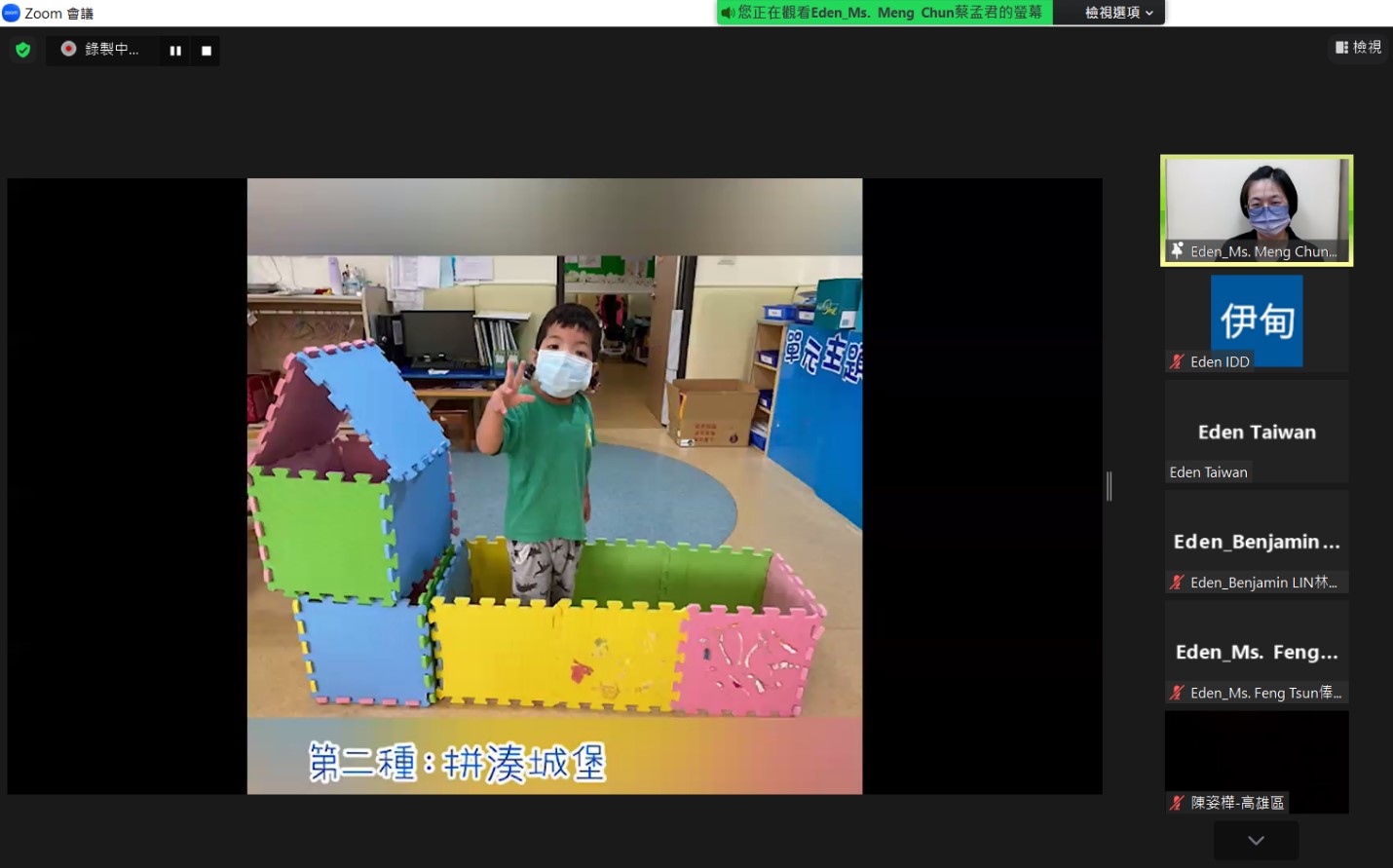 Photo: Introducing various interesting and educational activities from Ms. Meng Chun TSAI from Feng-Shun Early Intervention Centre, EDEN
At the end of the first session, Ms. Gloria CHANG, Director General from Kaohsiung Branch of EDEN summarized perfectly, "Although the two speakers came from different places, it was touching to see the never-give-up spirit in what they shared, even in the midst of a difficult epidemic or the coup in Myanmar. If services are suspended due to an epidemic, the child's golden years can easily pass, resulting in service workers being pressed to provide services despite various constraints. Even though we still encounter various difficulties, we believe that with love in us, we can work together to overcome these challenges, improve our professionalism and present better services through more communication in the fun."
The second session - Experience Sharing of "Double Blessing" in Early Intervention Service, was presented by Ms. Feng Tsun, CHOU, Director of Chia-Yi Early Intervention Center, and Mr. Tha Uke, Managing Director of ECDC. Ms. Feng Tsun shared her experience of community outreach, making effort to raise public awareness of early intervention services and show empathy to those in need in the community. Gradually, the local community began to accept these children from the Early Intervention Center, and they would prepare gifts for children during the Christmas celebrations. Some store owners even took the initiative to invite the children to be one-day shopkeepers. This was to show community integration as an integral aspect to support both families and children with physical and mental disabilities.
Next,Mr. Tha Uke, Managing Director of ECDC shared about how the Double Blessing was carried out in their services. Although the local government did not support ECDC, Mr. Tha Uke said that ECDC was established with God's preparation, and received a steady stream of grace in various areas such as financial needs, infrastructure, and training, gradually growing from a center to an organization. As the motto of ECDC is "In love all things are possible", ECDC has embarked on a journey of faith because of God's love. In addition to Mr. Tha Uke's own study of disability studies in the UK, ECDC has continuously focused on the promotion of disability legislation and policy since 2014 and conducted related research to lead the development of the disability field in Myanmar.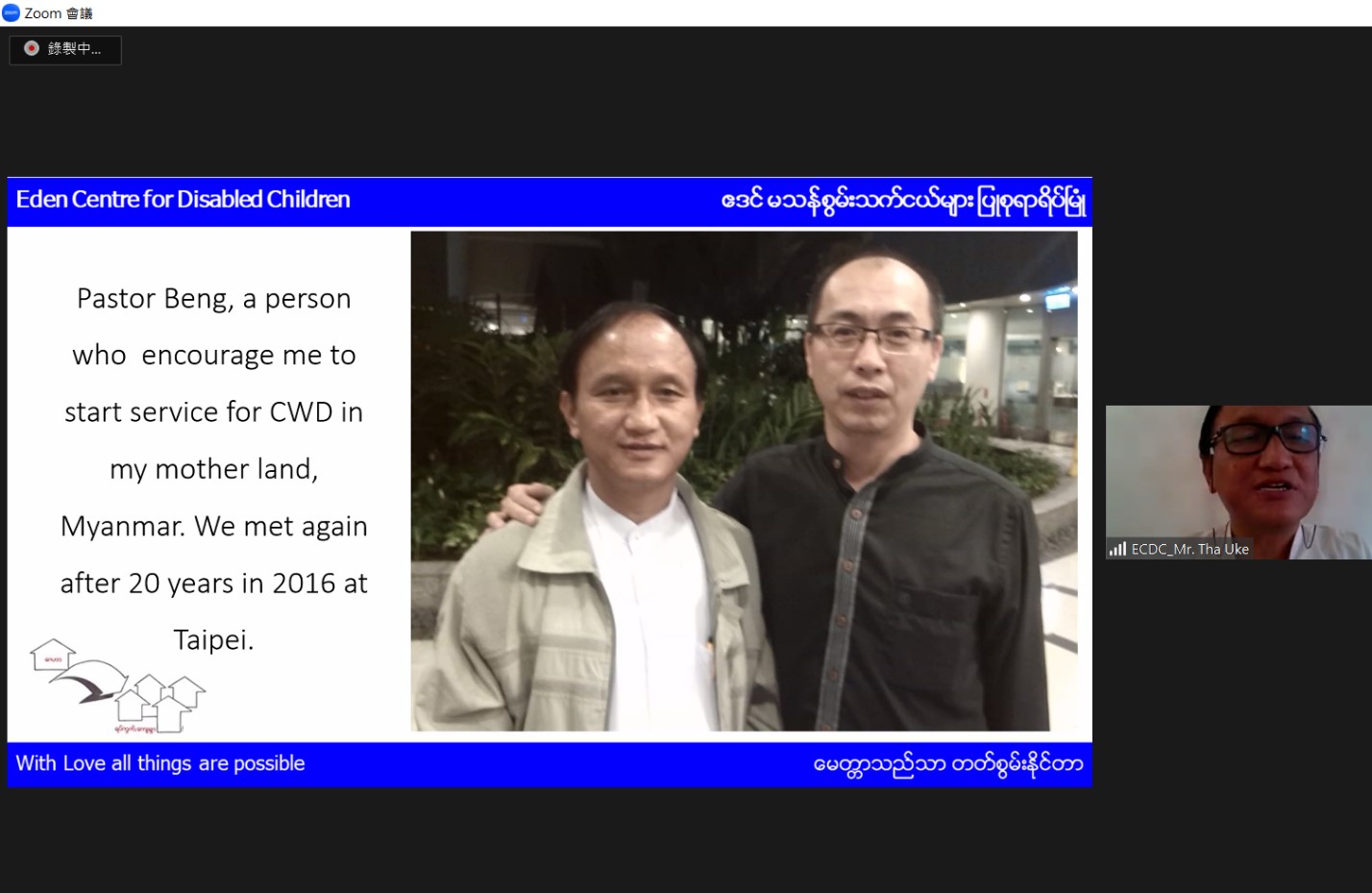 Photo: Mr. Tha Uke shared about how Pastor Ben sent from Eden Taiwan encouraged him to begin this journey of serving those in need in Myanmar by giving up job opportunities overseas.
Followed by Mr. Tha Uke's presentation, Mr. Hung-Chi, HUNG, Director General of Chang-Hua, Yun-Lin, Chia-Yi Branch of EDEN said," From the beginning of ECDC's existence and with the current political instability in Myanmar, ECDC should still have a long way to go. However, in Mr. Tha Uke's sharing, we could see that God has filled every corner of his life. Therefore, I encourage everyone that we do not start because we are great at something, but we only become better after we start". This closing draws the 2022 Taiwan-Myanmar Early Intervention Workshop to a perfect end.

In this workshop, created as a platform to discuss early childhood intervention services, it was reflected how important these topics are especially under the COVID-19 pandemic and uncontrollable crises continuing to strike in this world. Those successful stories in assisting and bringing smiles to the faces of the children and their families are worthy of praises. It goes without saying that this journey has not been easy for all the caregivers providing early childhood intervention services. There are plenty of challenges that lay ahead but they choose not to give up on their mission and vision. Their steadfast faith in God and His love have been the strongest motivator. They want to spread love and kindness to the ones in need. Such act of kindness help restores people's faith in humanity and hope to make this world a better place.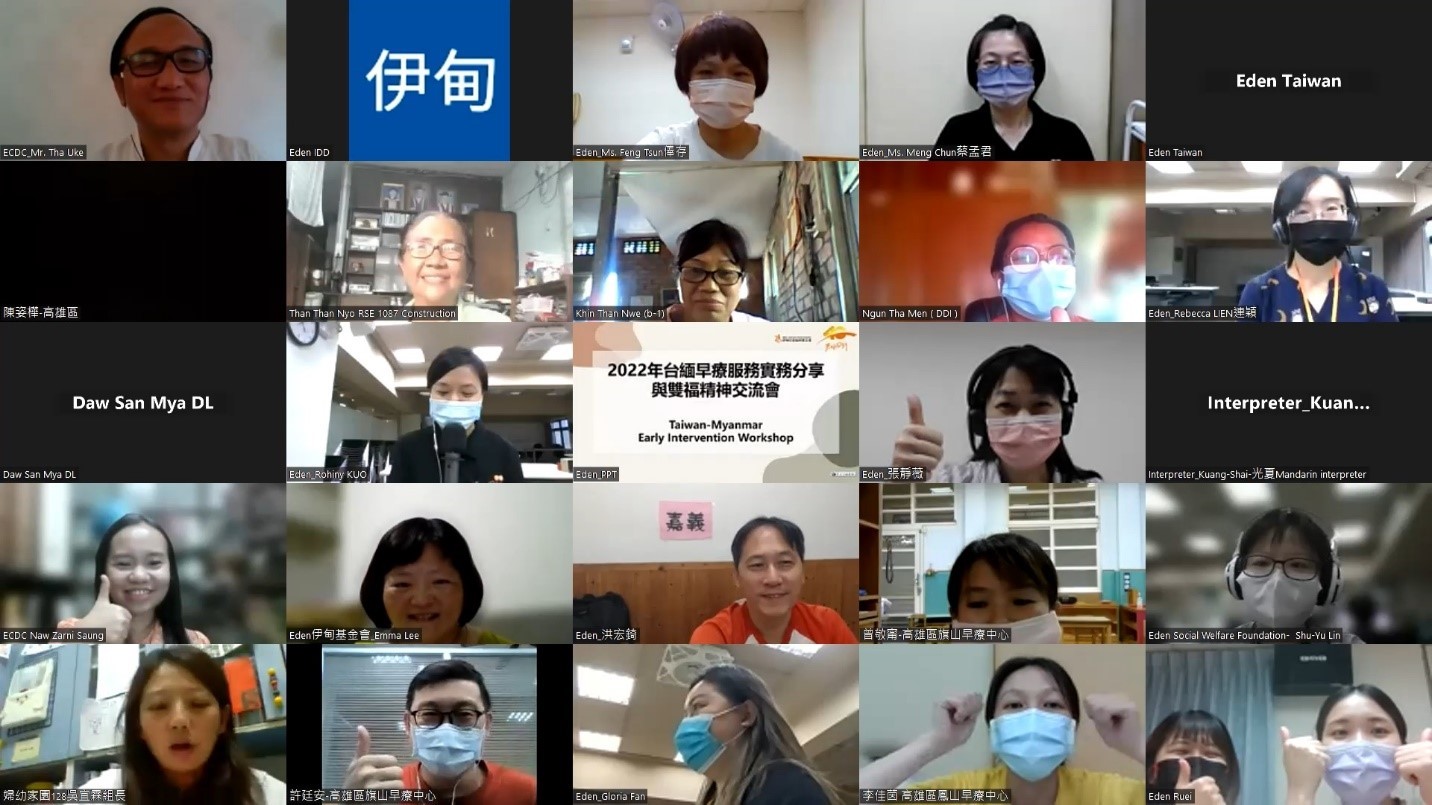 Photo: Group Picture taken at the Taiwan-Myanmar Early Intervention Workshop