The current humanitarian crisis stemming from Russia's invasion of Ukraine has "a disproportionate impact" on persons with disabilities, especially children in institutions there, four UN-appointed independent human rights experts said.
聯合國任命的四名獨立人權專家表示,目前由俄羅斯入侵烏克蘭而引發的人道主義危機正在對身心障礙者,尤其是那裡的身心障礙兒童機構造成「不成比例的影響」。
"The terrible tragedy of war highlights historic policy choices made in the past that severely affect children with disabilities," the Special Rapporteurs said. The independent experts flagged that "Ukraine faces the daunting task of reinventing many of its social and economic systems when this war is finally brought to an end".
特別報告員說:「可怕的戰爭悲劇凸顯了過去做出的歷史性政策選擇,對身心障礙兒童產生了嚴重影響」。獨立專家指出:「當這場戰爭最終結束時,烏克蘭面臨著重塑其許多社會和經濟體系的艱鉅任務」。
The experts raised the alarm over inadequate services for children with disabilities and the impact that the armed conflict is having on critical services, both within Ukraine as well as surrounding region. They highlighted that thousands of children with disabilities have been sent back to their places of origin without being ensured whether the environments are safe, and this practice including abuse and trafficking may endanger the youth. Moreover, mass repatriation has left many children untreated for physical and mental health conditions.
專家們對為身心障礙兒童提供的服務不足,以及武裝衝突對烏克蘭和周邊地區的關鍵服務產生的影響提出了警告。他們強調成千上萬的身心障礙兒童在未確定環境是否安全的情況下被送回原籍地,包括虐待和販運的情況可能會危及青少年。此外,大規模遣返使許多兒童的身心健康狀況得不到治療。
Citing their displacement from one institution to another, the experts observed that the children who had remained in institutions are experiencing a decline in their health and well-being. And adding to the already known problems of neglect, abuse, physical restrictions, and access to basic services – including education and healthcare – a lack of information on their whereabouts is preventing families from restoring contact. Another concern raised by the experts is that Ukraine seems to require third countries receiving children with disabilities to place them in institutions – even countries that have successfully deinstitutionalization for their own citizens.
專家們以他們從一個機構轉移到另一個機構為例,指出留在機構中的兒童的健康和福祉正在下降。除了已知的忽視、虐待、身體限制和獲得基本服務(包括教育和醫療保健)的問題外,缺乏關於他們下落的消息也使家人無法恢復聯繫。專家們提出的另一個擔憂是,烏克蘭似乎要求接收身心障礙兒童的第三國將他們安置在機構中—即使是那些已成功對本國公民進行去機構化的國家。
The UN experts expressed that investments will be made to build community support when reconstruction and future development for Ukraine being funded, which enable children with disabilities to grow up with their families in family-like environments instead of institutions. Finally, the experts strongly reiterated their "previous calls" on Russia to "immediately end its aggression against Ukraine" and pledged to assist Ukraine to "build a better future for its citizens with disabilities".
聯合國專家表示,希望在為烏克蘭的重建和未來發展提供資金時,投資建立社區支持,使身心障礙兒童能夠與家人一起在類似家庭的環境中成長,而不是在機構中。最後,專家們強烈地重申他們「此前多次呼籲」俄羅斯「立即停止對烏克蘭的侵略」,並承諾幫助烏克蘭「為其身心障礙公民創造更美好的未來」。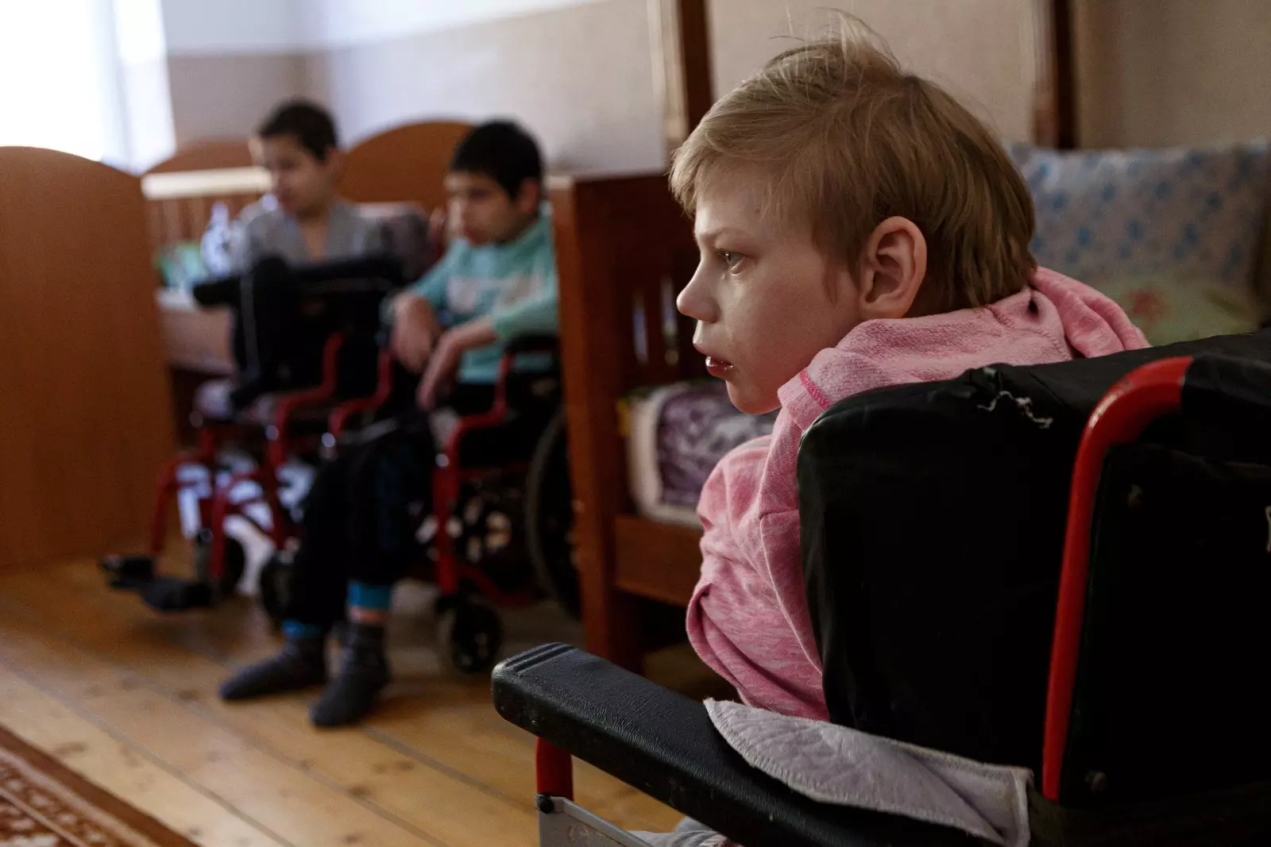 Persons with disabilities in Ukraine are not given the chance to evacuate.(Reuters/Serhii Hudak)
烏克蘭的身心障礙者沒有機會撤離。(路透社/Serhii Hudak)
Citation:
Children with disabilities disproportionately impacted by war in Ukraine
https://news.un.org/en/story/2022/08/1124492
photo credit:
Ukrainians with disabilities are being left behind. It's time for concerted humanitarian action
https://www.weforum.org/agenda/2022/05/ukraine-refugees-disabilities-humanitarian/