Twelve years ago, Eden Foundation incorporated "Art" into rehabilitation for persons with disabilities. Through creations and developments, people with disabilities are able to create a space for their own path, and through the connection of art, they are able to achieve physical and mental rehabilitation, and through this, they are able to open their minds and walk into society, we look forward to create an "equal and inclusive" society.
2022, on the occasion of Eden's 40th anniversary, we held the "International Workshop on Rehabilitation and the Arts", inviting scholars and practitioners from the United States, Japan, Australia, Israel, Hong Kong and Taiwan who are experts in rehabilitation and arts to share their service and professional experiences.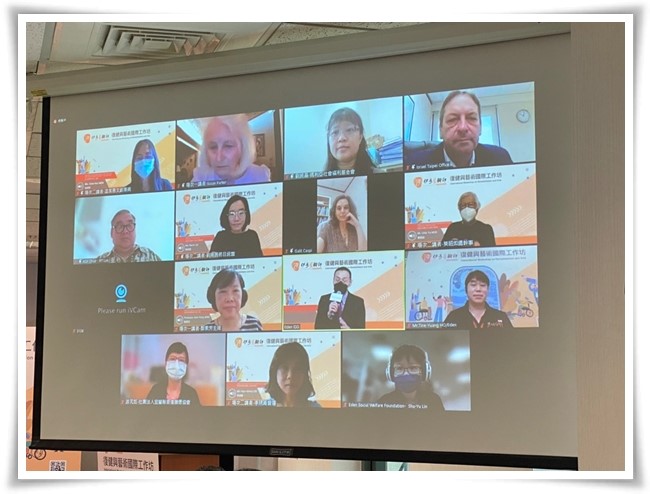 The group photo of the authorities and speakers
In order to ensure the human rights and dignity of people with disabilities, our country has already committed to the Convention on the Rights of Persons with Disabilities (CRPD) in 2014, and this international workshop echoed Article 26 of CRPD on adaptive training and rehabilitation, and Article 30 on participation in cultural life, recreation, leisure and sports activities. With more innovative service ideas, people with physical and mental disabilities can also demonstrate the possibility of independent living. We hope that Eden Foundation will continue our mission and create a friendly and integrated social environment together with the government so that CRPD can be better implemented in Taiwan.
The president of Eden Social Welfare Foundation, Dr. Joan C. LO shared that since the founding of Eden, we have continued to follow the spirit of CRPD, providing innovative services to people with physical and mental disabilities in Taiwan and overseas, and we have also moving forward to United Nations Sustainable Development Goals (SDGs). In the process of service, Eden sees that persons with disabilities need more care and companionship, and therefore we devote ourselves to helping persons with disabilities to recover and find their creative potential and value in life.
The United State speaker, Mr. Tom di MARIA, the Director Emeritus of Creative Growth Art Center. Mr. Tom di MARIA introduced how the Creative Growth Art Center function and also states the concept that "people with disabilities must find their own path and create what they want. Their work should be exhibited in contemporary art venues like other contemporary artists." Which is a remarkable sharing.
Mr. Tom di MARIA present the achievement of their service users
We also invited Professor. Suh-Fang JENG, the Chair of World Physiotherapy, Asia Western Pacific Region, Taiwanese authority of rehabilitation, she shared her personal practical experience on how to combine rehabilitation and arts together practically.

Professor Suh-Fang JENG giving a meaningful presentation on bringing Arts into Rehabilitation
There were three sessions of the workshop "Persons with Disabilities and Art Rehabilitation", "Art and Rehabilitation Service for Persons with Disabilities" and "Rehabilitation and Diversity in the Arts". Professionals from different countries who have been working in the arts and accompanying persons with disabilities shared their own experiences. Many speakers shared the view that art is not a cure, but rather the value is to break their original imagination in the rehabilitation process, provide them with different stimulation and opportunities, and return their creative leadership. We believe that by respecting diversity and equality, we can see the diversity of persons with disabilities, and see their vitality in their creative works during the rehabilitation process.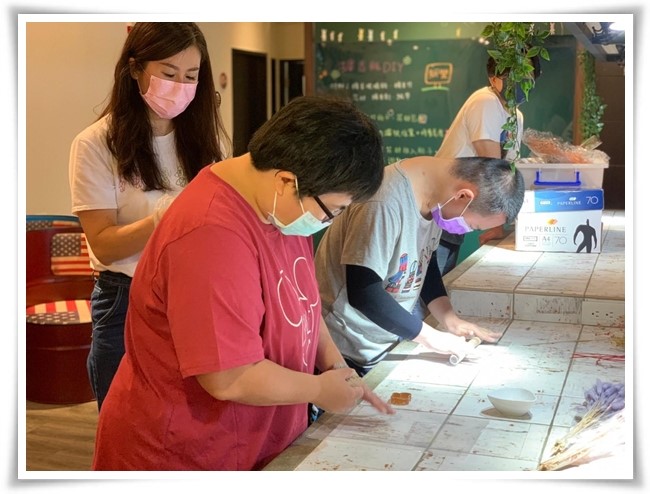 The service users of Eden create and rehabilitate through the artwork