As COVID-19 continues to spread through unknown sources of infection, hundreds of confirmed cases are being reported daily which make people panic and concerned. For social welfare foundations that serve underprivileged groups is also a problem. To make sure that the direct care providers and the service users may monitor their health and safety promptly, Genomics Biotech. Co. Ltd donated 600 COVID-19 rapid test kits to the long-term care centers of the Eden Social Welfare Foundation. By using the rapid testing kit, it is helpful to ensure the health and safety of the direct care providers, the service users, and provide a safer environment for all service users.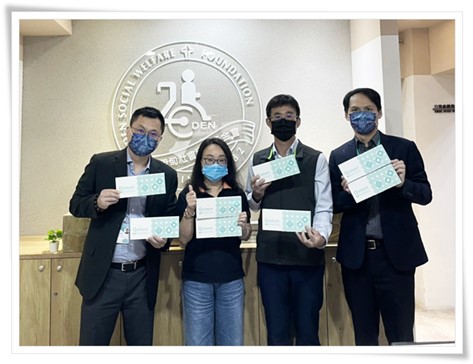 Eden thanks Genomics Biotech for donating 600 rapid test kits.
Eden Social Welfare Foundation said that service users of long-term care centers are mostly elderly people and those with severe disabilities. Due to limits in physical and mental abilities, they may not be able to get screening right away and even when showing the symptoms. In addition to the lack of manpower and huge pressure to take care of the patients and users, the direct care providers are also risk of getting infected every day. Under this severe circumstance, the care provider does need support from society. Therefore, Eden truly appreciates the kindness of Genomics Biotech. Co. Ltd, which not only increases Eden's ability of disease prevention by reducing the risks of direct care providers , but also ensures that the care services could be maintained securely and continuously.