2021 Asia Regional Forum on Landmine Victim Assistance has been successfully ended on Friday, October 8th. More than 70 people participated in the forum, which crashes the different spark between the host and the speakers. The forum mainly aims at demonstrating the importance of international humanitarian aid on landmine victim assistance.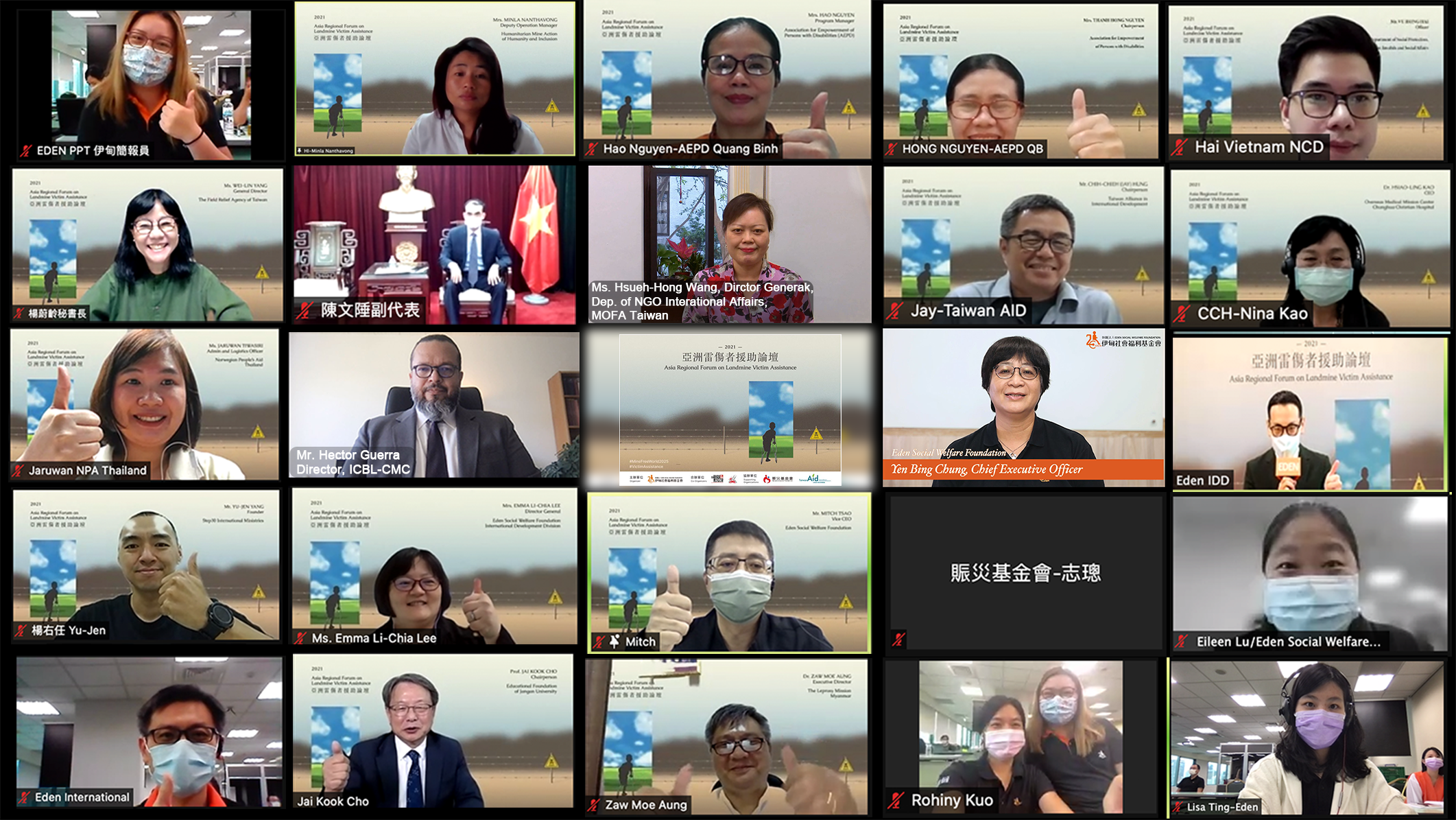 Eden Social Welfare Foundation sets up comprehensive issues for the forum, which deeply explore landmine assistance and independent living for landmine victims. In session one, it mainly talks about the policies sharing in various countries. From victims' services, medical insurance and educational subsidy are some of the essential implementations policies. Professor Jai Kook Cho, the Chair of the Educational Foundation of Jangan University in South Korea, indicates that unexploded ordnances are everywhere in Korea. The authorities hope to promote the enforcement act for the victims. To extend the policies, the speakers for the next session are in charge of the case studies and the information updating overseas. As one of the speakers for Eden Social Welfare Foundation, internship program to raise awareness for the juvenile is under implementation. The standard and the principle for humanitarian aid would be another lesson for landmine assistance. In the session, Dr. Hsiao-Ling Kao, CEO of Changhua Christian Hospital, and Ms. Wei-Ling Yang, General Director of the Field Relief Agency of Taiwan, both spoke of the esteem for the landmine victims. Hence, emerging from poverty is the foundation for humanitarian esteem.
How to connect with the rescuing proposal and the treaties from CRPD/MBT/CCM/CEDAWwas the main topic for the round table session. The speakers shared a number of cases and the obstacles in their own countries. The treaties are comprehensive; however, the implementation remains an uncertain issue.
2021 Asia Regional Forum on Landmine Victim Assistance is a form of online meeting. Eden Social Welfare Foundation has demonstrated landmine assistance for over 20 years. Through the successful cases shared in the forum, we show the core value of the "Mine Ban Treaty" together. Eden is honored to invite speakers from other Asian countries. We are sincerely looking forward to "Mine Free World" coming in 2025.
------------------------------------------------------------------------------------------------------------------------------------------------------------------------
CRPD-The Convention on the Rights of Persons with Disabilities
MBT-Mine Ban Treaty
CCM-The Convention on Cluster Munitions
CEDAW-The Convention on the Elimination of all Forms of Discrimination Against Women