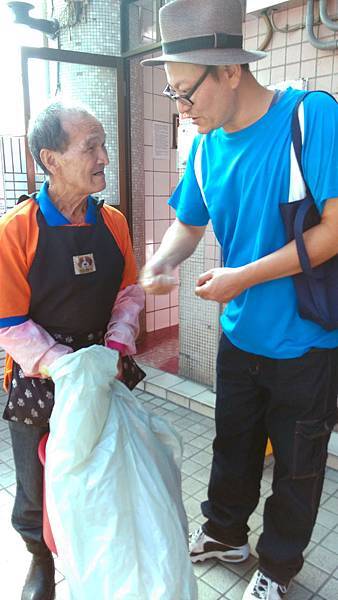 It is not hard to find Grandpa Su-Jian cleaning between the train station platform, lobby, restroom, and hallway. He retired but insisted on re-entering the job market. However, his age has put him at a disadvantage in the job search. Fortunately, with the help of Eden Social Welfare Foundation Employment Specialist, he has been matched up to the current cleaning job in the public sector.

Due to the low acceptance of the seniors in the job market, it is difficult for Grandpa Su-Jian to get a job. The Social Worker in the City Government sent Grandpa Su-Jian's case to Eden after an interview, hoping to find a suitable job match for him. As soon as the Employment Specialist received this case, they started to think comprehensively about how they could assist Grandpa Su-Jian in returning to work. After asking around and evaluating in many ways, they found a cleaning job at the train station for Grandpa Su-Jian.

After more than two months, his work performance is getting better and better. In the group, partners with different disabilities help each other, be each other's eyes, ears, arms, legs and voice, and build up chemistry with others. Besides his cleaning tasks, Grandpa Su-Jian was assigned to be in charge of other tasks, such as cutting down trees, repairing cars, welding, tightening screws, etc. Since Grandpa Su-Jian used to be a professional blacksmith, these tasks are easy to him. He is able to accomplish almost any task assigned to him, including fixing steel doors and welding light bulbs.

Grandpa Su-Jian is grateful to Eden for helping him meet his current owner. Eden put the United Nation Sustainable Development Goals (SDGs) into practice. SDGs Goal 8 is to achieve full and productive employment, and decent work, for all women and men. Hence, Eden values every worker, encourages Grandpa Su-Jian to bring his former experience as a blacksmith into practice, makes good use of his ability to assist in different tasks, and is willing to give compliments to other partners. The relationship of mutual trust makes Grandpa Su-Jian be motivated to work. As for Grandpa Su-Jian, though the work is hard and the life is frugal, it is enough as long as his family can live safely and happily. Grandpa Su-Jian is satisfied with his current job and keeps a spirit of contentment and optimism every day.