The Global NGO Forum on International Development, formerly named 'Asian NGOs International Development Conference', is the largest biennial meeting focused on discussion of international development issues in Taiwan, as well as the flagship event of Taiwan AID. Previously, the 'Asian NGOs International Development Conference' already completed 4 times from 2012 to 2018.It has more than 150 guest speakers and 1,200 participants to attend the events. Over the last 8 years, the Conference was mainly concentrated on regional perspective with most of the speakers from Asia.
This year, Taiwan AID would like to extend the meeting to a global scope as 'Global NGO Forum on International Development', aiming to invite speakers from all over the world to share the latest trends and progress related with international development, particularly under the threat of COVID-19 pandemic.
Being one of the Board Directors of Taiwan AID, Eden Social Welfare Foundation as the member of conference organizing committee, not only participating in the conference preparation work but also will be one of the panelists to share the view on how to strengthen the inclusive partnership in between global partners for marginalized groups, especially from the group ofpersons with disabilities.
Observing the needs for Taiwan to strengthen its contribution to effective development cooperation, civil society aims to explore the commonality and differences of government-civil society partnerships practiced in various countries, as a means to fostering mutual learning on CSO enabling environment and providing policy reference for a comprehensive framework which is suitable for the context in Taiwan.
Main Theme: Inclusive Partnership between Government and Civil Society in International Development

Date: Monday, Oct. 5 to Tuesday, Oct. 6, 2020

More information: http://www.taiwanaid.org/en/news/494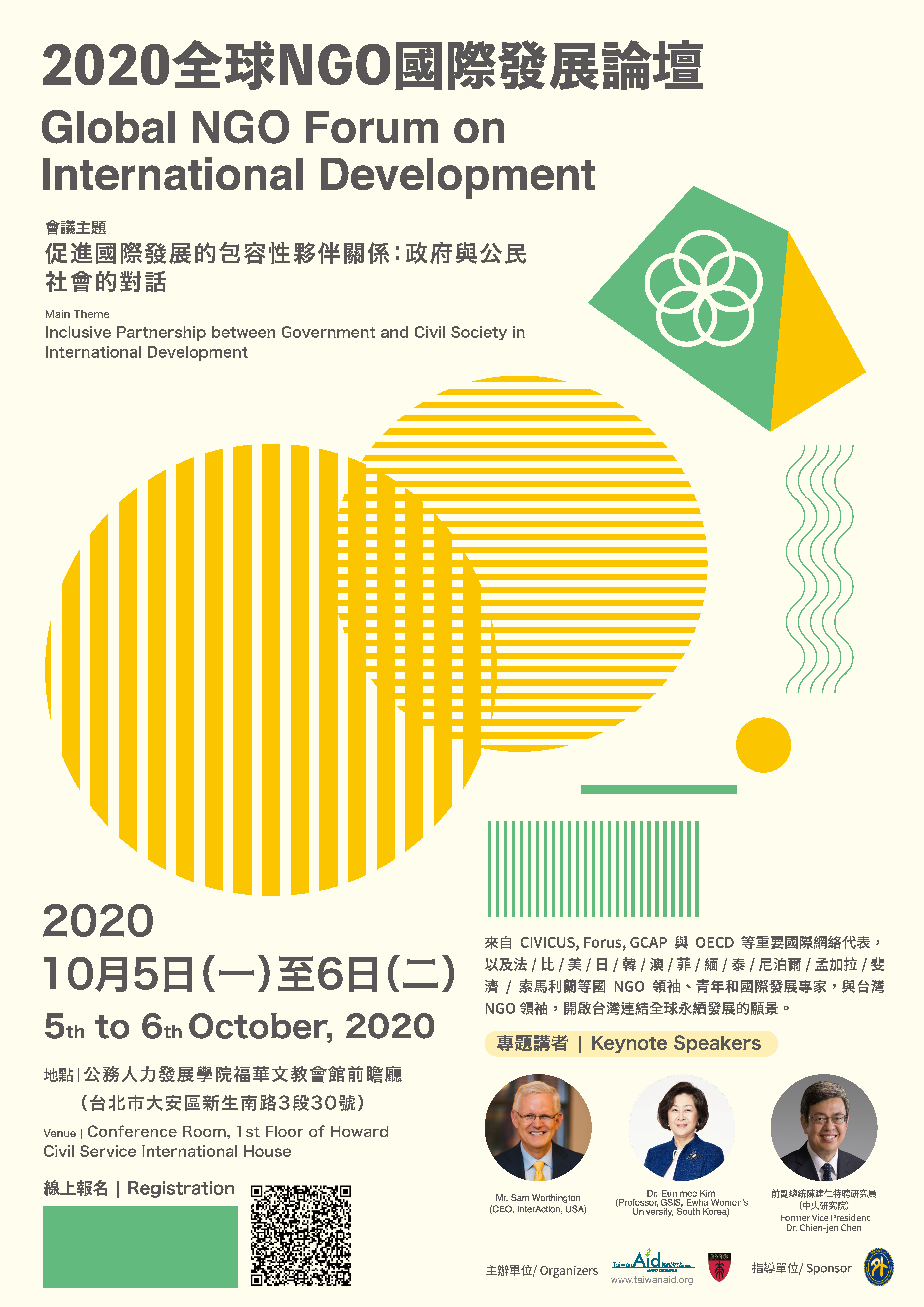 Established by Eden Social Welfare Foundation, Noordhoff Craniofacial Foundation, Zhi-Shan Foundation Taiwan, Taiwan Root Medical Peace Corps, and Field Relief Agency of Taiwan in 2004 and registered in 2013, Taiwan Alliance in International Development (Taiwan AID) is a platform for Taiwan-based nongovernmental organizations (NGOs) with nearly 30 members working all over the world. Members are involved in various sectors, such as humanitarian aid, medical service, education, information, gender issues, emergency relief, community development, human trafficking and volunteer service. Taiwan AID is an NGO platform with the aim of strengthening transparency, efficiency and cooperation among Taiwan-based NGOs involved in international humanitarian aid with the value of humanity, equality, justice, and sustainable development.