The Aroma Of Love – Ted's Life Story
SDG 8 promotes sustained, inclusive and sustainable economic growth, full and productive employment and decent work for all, who includes persons with and without a disability. Many innovative and meaningful projects have been rolled out to make it happen. For example, the Nest Bakery of Nesbitt Center which, same as Eden, is one of the members of Workability Asia (WAsia), is established to provide training and create job opportunities for persons with disability.


This kind of model is not only available overseas but also in Taiwan. Walking into Taoyuan Eden Coffee Shop, the aroma of the bread makes everyone drool. On the baking tray, those delicious fluffy bread, which just came out of the oven, are the proud products from the staff of Eden Coffee Shop. They are with disabilities but have been well trained on baking skills.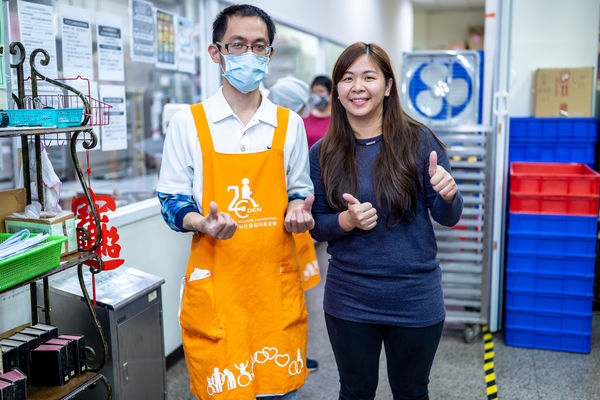 (Picture: Employment trainer Xiaojun Huang guided Ted to a brighter career path.)
Ted, who works in the Eden Coffee Shop, found out that he had a mild intellectual disability when he took the military examination after graduating from high school. Due to his conditions, the job search journey had been up and downs. He even experienced a workplace bully at his previous job, which caused a negative impact and made him leave the workplace.
Luckily, through the referral from the Rehabilitation Center , Department of Labor of the Taoyuan City Government , Ted passed the assessment at the Shelter Factory and successfully became staff at the Eden Coffee Shop. At first, his primary responsibilities were to do some easy tasks like tidying, cleaning, and packaging. Later, due to the hard-working and responsible attribute that Ted has, his working ability has increased, and he was transferred to the kitchen department for a more complicated skill training - baking.
After a long period of practice with effort, Ted becomes more familiar with the baking procedure. He now serves as a Teaching Assistant to mentor and help other newly recruited staffs, who are also with disabilities, to do the work procedure correctly and to familiarize them with other work details.
Turning into 31 years old this year, Ted has been working in the Eden Coffee Shop for ten years. Ted is absolutely proud of the products he made. What he wants most is to share his products with his family and friends – to show what he has achieved in his learning process. He said that being able to taste the delicious bread, which was made by him with a lot of effort, keeps him going forward. Also, he wants to share the love and passion for life through baking.
Each of everyone in the world is unique and with great potential. Persons with disability doesn't mean that they cannot contribute to the society but only rely on others. As stated in the Convention on the Rights of Persons with Disabilities (CRPD), persons with disabilities has the equal right as others to the opportunity of gaining a living by work and the working environment should be open, inclusive and accessible to persons with disabilities. Ted's story has told us that, persons with disability is actually with ability – ability in learning,ability in contributing,and even ability in leading.