If you meet Chao-Cheng Ke, you will easily notice the huge tattoos on his both arms. The picture on the right arm is a Native American Indian, and the left one is a Japanese Samurai. The tattoos are both very sophisticated and majestic. Also, Mr. Ke has long hair. His rough appearance reminds us of his old days of being a gangster.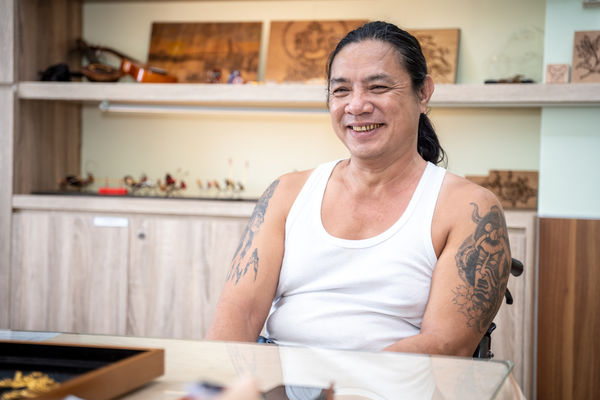 Mr. Ke had no interest in studying, so he chose to be a truck driver when he was young. However, he lost his left foot during a car accident when he was at work. After recovering from the accident, he did the prosthetic implant. Unfortunately, his disability made him hard to find any decent jobs. To survive, Mr. Ke started to work with the gangsters to earn money from illegal channels. As a result of his involvement in many illegal drug transactions, he was caught by the police and sentenced to jail for 10 years.
After being released from jail, he lost contact with his family. Hence, the Social Welfare Department arranged for him to stay at Eden's Ai-Hu Development Center and it has been 2 and a half years since then. "I was at a loss in the old days. My new life here is much more meaningful and I finally feel relieved now," said Mr. Ke. Here in the center Mr. Ke started a new life and learning about Aluminum string art for the first time.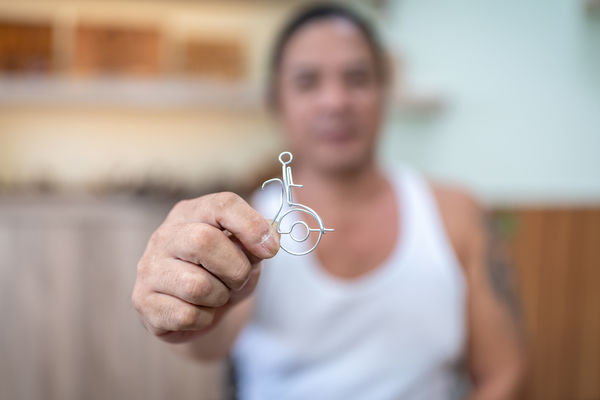 As a person with a physical disability, it is very hard to survive in society without any assistance but Mr. Ke strives to be independent by all means. He had no experience in creating any artwork before but he realized that he found the Aluminum string artwork really interested him and he was amazed by the outcome that he was able to turn the aluminum string into sophisticated creations. Hence, he decided to give it a try with the Aluminum string art and this has provoked his great interest since then. Practice makes perfect. Every day he spends at least two to three hours in practicing the skills.
In 2018, he has attended the Asia Pacific Accessible Art Festival Exhibition in Hong Kong as the representative artist of the Ai-Hu Development Center. He was greatly inspired by what he saw there. One of the artists from Vietnam who is suffering from severe Ankylosing spondylitis and his body is so stiff that he can only either stand or lie down. If he needs to walk, he can only walk with his toes. Even with this challenging physical condition, this artist pasted different colors of rice grains in the drawing paper one by one to create a cutting-edge rice drawing, which impressed Mr. Ke greatly. After seeing others' artworks, Mr. Ke was motivated to work harder as he knew that he has great potential.
He believes everyone can make perfect Aluminum string artwork through practice. Mr. Ke is very demanding on the details which reveal his artist's personality trait of perfectionism. "If you decide to do the work, you should do it perfectly. The quality can't be negotiated," said Mr. Ke.
"Physically disability is not a real disability. The real disability is letting your heart confines you from doing anything you desired. If you are physically disabled, you should try every possible way to survive, to overcome all difficulties; if you don't, that makes you truly physically disabled. If you devote yourself one hundred percent to your goal, you will find that other people won't consider you as physically disabled."
Mr. Ke said,
"Be strong and be brave to face and solve your difficulties in your life because you can run but you can't hide forever."
Through this exhibition, he also requests the public to give all persons with disabilities a chance as everyone has great potential.
He wants to express his thankfulness to the workers in the Ai-Hu Development Center. They accepted him and took good care of him. They offered him a second "home" and a chance to learn many different skills to start a second life. Someday he hopes to earn a living on his own through his favorite Aluminum string work without aid from anyone.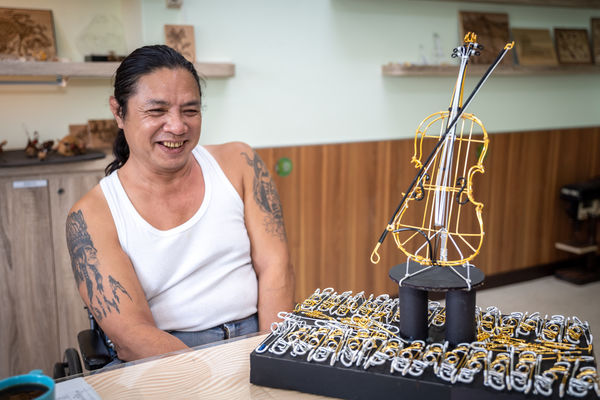 Mr. Ke said, "It is very nice to be able to settle my life again, a calm and peaceful life." Amazingly, he has discovered his passion for life again. And this Aluminum string art gave him new hope in the years to come. Fifty-three-year-old Mr. Chao-Cheng Ke has prepared to start his new chapter of a newlife.