Jump to the main content block
:::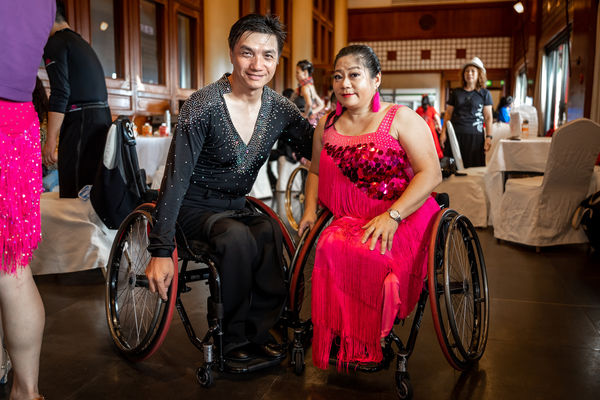 Guo Wen-Sheng and Huang Yi-Rong , wheelchair dancers, have been performing Wheelchair Ballroom Dancing for over 10 years. Five years ago, they met and became partners of Double Wheelchair Ballroom Dancing by coincidence. Even though they only had 6 moths short-term teamwork, with very tacit understanding, they won a silver metal of Asian Para Games held in Incheon, South Korea, in 2014. After Asian Para Games, Gou Wen-Sheng and Huang Yi-Rong came back to Taiwan. They started dating and got married afterwards.

Guo Wen-Sheng, having 18 years performing experiences of wheelchair dance, was one of the first members of Eden Wheelchair Dancing Club. Besides, Huang Yi-Rong was also a member of the club, but two terms late after Guo Wen-Sheng. Both of them had poliomyelitis at childhood that resulted in disability of legs. Since then, they have had to rely on walking aids.

After Guo Wen-Sheng graduated, he went to medical center for a surgical operation curing scoliosis that was caused by putting over pressures on knees while walking for a long period of time. At the time, his physical therapist encouraged him to do sport rehabilitation. Therefore, Guo Wen-Sheng started his sport rehabilitation with wheelchair racing and kept trying different types of sports that are designed for disabled people. Subsequently, he joined Eden Wheelchair Dancing Club that was just formed.


On the other hand, Huang Yi-Rong had chances trying some easy sports in physical education class at college. Since she graduated from college and entered workforce, she had never thought about doing any excise. Until she saw disabled people performing wheelchair dance beautifully in nice body shapes, she had his first thought of learning wheelchair dance. Since she started dancing, she has been dancing for 16 years.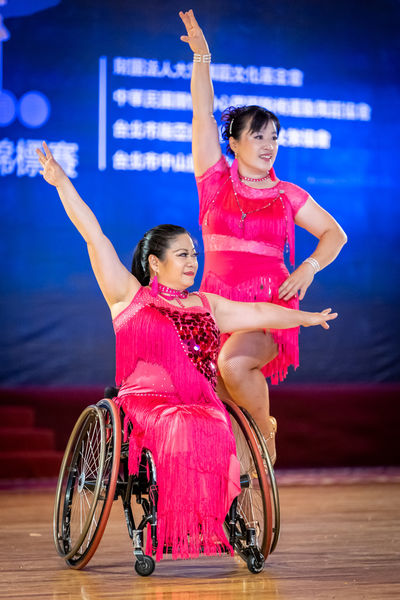 For the first step of wheelchair dancing, Huang Yi-Rong had to work on how to operate wheelchair smoothly. "Many people are stuck in operating wheelchair smoothly at first." It is not easy to keep wheelchair balanced. Some of the club members were afraid of keeping on dancing after falling over one or two times.
In Eden Wheelchair Dancing Club, a beginner has to be paired up with a partner who is able to walk normally to dance. Two of them need to go through re-adjust and teamwork period over and over to complete a perfect performance of wheelchair dancing.

Owing to the frequent practice together, the chemistry between Guo Wen-Sheng and Huang Yi-Rong has been brought up. They have won many rewards and recognitions from Double Wheelchair Ballroom dancing races. The reporters of BBC (England) even came to them and made a personal interview with them. Guo Wen-Sheng and Huang Yi-Rong started dating in 2015. Three years later, in 2018, they had a wedding ceremony right after an open tournament of wheelchair dancing. As the tournament finished, the sponsor hosted a wedding party for them in the gym. With the best blessings from their families, club members, volunteers and competitors, their wedding ceremony was completed.

Speaking of Barrier Free Space issue in the wheelchair competition, Guo Wen-Sheng and Huang Yi-Rong have found ways to overcome the issue for dancing at different space specification. Guo Wen-Sheng said," It totally relies on improvise reaction and experiences to adjust the requirements of the space and distance for dancing when the layout provide by the host is different from the locale.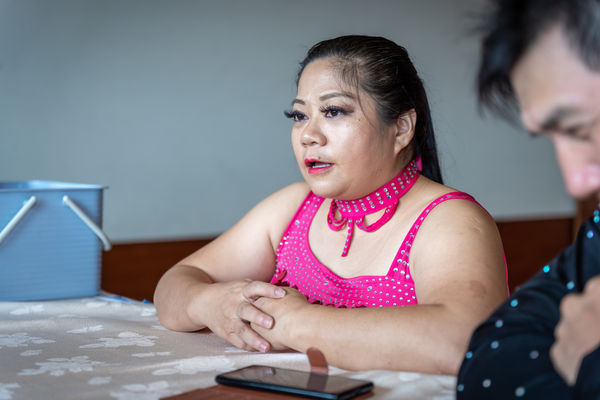 "Also, it is often to have competitions of wheelchair dancing on temporary construction stages. Sometimes, there are stairs but lack of accessibility ramps; therefore, dancers need someone to help them move up to the stages. The moving processes would be really risky if helpers have never done the processes before. Besides, the wheelchairs for dancing are different from the common ones. A dancer usually needs to operate his/her own wheelchair; on the other hand, he/she also needs to push a professional wheelchair to the stage for beforehand practices. There is usually no enough space for many wheelchairs at the place where dancers can practice. " Huang Yi-Rong said.

Now, Guo Wen-Sheng and Huang Yi-Rong are much appreciated the moments that they are together and the same interests and goals that they have. For the self-expectation, both of them think that the greatest happiness is to keep on dancing with a healthy body and happy mood.