Thirty six years ago in the hospital, Mr. Lin was supposed to be happy for the birth of his little boy, however something unexpected happened deprived of his happiness. The doctor declared his son was diagnosed as Hydrocephalus and classified as profound mental retardation – all these made him unbearably painful. After retiring, Mr. Lin took the heavy burden of looking after his son. He has kept a diary stating the happy hours of him and his son spending together for the past six years with his constant companion.

Actually, Mr. Lin lives a busy retirement life. He starts his day early in the morning by helping brush his son's teeth and rinse his mouth. Then, Mr. Lin takes his son to Wang-Fang Disabled Day Care Center. At 4 PM afternoon, he will show up in the center to take his son home. Day after day, he does the same chore without lassitude and weariness. He said, "What I do is very normal, is part of my life."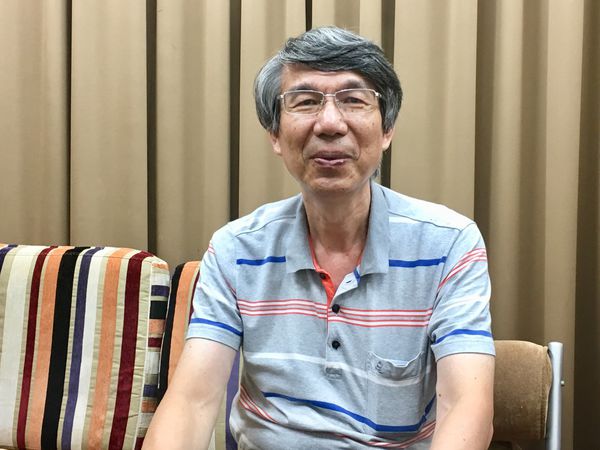 Six years ago, Mr. Lin retired and then took over the responsibility of looking after his older son. Every Friday to Sunday has become the special time for the father and son. Mr. Lin always takes his son to the park for sunbathing, strolling and sweating to keep his son's good health. He takes thorough care of his son. He said, "I promised my wife that I will take over this work after retiring because she has done all the nursing for a long time." Mr. Lin keeps his promise so she is able to take a break after 30 years of labors for now.

The son was born with Hydrocephalus therefore his head, with wider head circumference, was too heavy to be held up by the neck, which meant he could not raise head by himself. The doctor said he must lie down on the bed for the rest of his life. The father was unwilling to give up and took his son to see other famous doctors, hoping to find cure for the head-raising problem, nevertheless received negative feedback from most of them. Although there was one doctor considering Cerebral Shunt, Mr. Lin rejected the offer in the end because the aftereffects may cause other severe damages.

Mr. Lin was unbearable to see his son can only lie down on the bed. He was determined to train his son to stand on his feet. "I put my son in a baby walker and used thick quilts to wrap his head to make it upright. With this gadget, the baby was able to glide on the ground with two feet," he said, "my son kept on practicing until 3 baby walkers were worn out, and he finally made some progress." My wife and I, one standing at his left hand side and the other right hand side, hold his hands to let him practice walking and when he finally took his first leap, he was already past four.

With profound mental retardation, the son has significant limitations in intellectual functioning. He could only speak three words at one time, and four words are too hard for him to imitate. Ever since the boy was born, Mr. and Mrs. Lin has continued to train his verbal ability. They tried to teach him to say everything in their life, including the names of objects, however the son only learned to speak until he was near 5. The first word the boy said was "Grandfather" because his grandfather was spending the most time with him at that period. When the boy finally learned to say "Father" and "Mother", this couple were thrilled.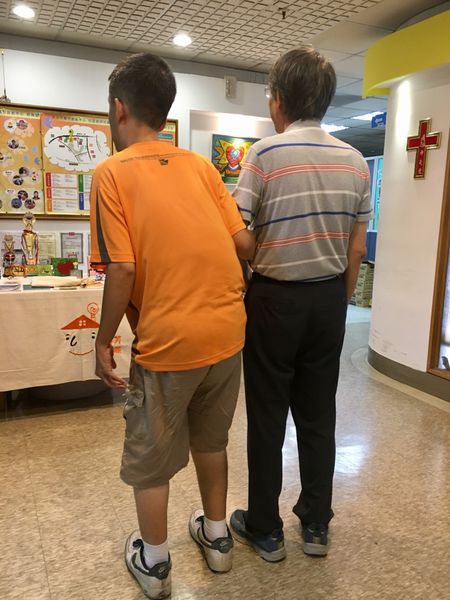 Speak of hobbies and interests, his son likes to see TV programs regarding animals. Mr. Lin will take the chance of teaching him to know more about animals and explaining the animals' behaviors through the films on TV. Besides, he likes to do wooden puzzles because they are big and thick for good carrying. He doesn't do well on paper puzzles because they are too thin and soft to pick up, press and put together. His hands are not allowed to perform refine movements. "He could do 20 pieces of puzzles when he was little," said by Mr. Lin with joy. "But, he can only do 10 pieces of puzzles now, at the age of 36." he said with sorrow, "I found his body function deteriorating."

For the past six years after retiring, Mr. Lin has kept his son's company every day except for the time in Day Care Center. In case of insufficient exercise time for his son, he has arranged to take his son to troll in the park twice a day every Friday to strength his physical ability. Mr. Lin always takes his son with him everywhere he goes, which shows his caring and loving. Mr. Lin said "He is still capable of taking care of his son at this moment, and he will keep doing this until the day he is physically not permitted." As a father, he takes the responsibility of taking care of his son properly, furthermore, the love he dedicates and the sacrifice he suffers really touch us.