2019 International Conference on Developmental Social Work
Dialogue with Social Innovation
About the Conference


Eden Social Foundation is partnering with Department of Social Work, National Taiwan University to hold the International Conference on Developmental Social Work. The theme for this year is Dialogue with Social Innovation, which will be discussed in the following areas: community participation and independent living, community industry, employment and poverty reduction, and social enterprises.

With greatest honor, this year we have Prof. Manohar Pawar, president of International Consortium for Social Development, Prof. Julian Chow, professor of School of Social Welfare, University of California, Berkeley and other distinguished speakers to join us and provide in-depth discussion from various perspectives. We hope through this conference, the dialogue between developmental social work and social innovation would bring social work to another level and inspire our work in the future.



Conference Information




**

Conference Date: 2019. Nov. 28-29 (Thur & Fri)


**

Conference Venue: Tsai Lecture Hall at College of Law, National Taiwan University
No. 1, Section 4, Roosevelt Rd, Da'an District, Taipei City, Taiwan
*Enter from the corner of Sec. 2, Fuxing S. Rd and Sec. 2, Xinhai Rd



**

Conference Organizer: Eden Social Welfare Foundation


**

Supporting Organizer: Department of Social Work, National Taiwan University



Conference Registration




**

Registration Time: Registration is opened now and will be closed by November 8th .


**

Registration form: Please go to (https://forms.gle/nYQw7tunY8tg1MoP7)


**

Registration Fee:


**

Full Fee: NTD $1000 ppl.
Discounted Fee for Student/ Persons with disabilities and their Carers: NTD $500 ppl.
*Additional support information required, please email the scanned copy of your support document to us while you proceed your registration.



**

Payment Details:
All payment must be in Taiwanese dollars and be made directly to the following account:


Bank Name: CTBC Bank (Chengde Branch)




1F., No.17, Sec. 1, Chengde Rd., Datong District, Taipei City 103, Taiwan (R.O.C.)


Account Name: Eden Social Welfare Foundation




Account Number: 624 5401 94399




Swift Code: CTCBTWTP624



*Please include your full name on the transfer note.
*Please complete your payment within 3 days after your registration and email the scanned copy of your transfer receipt (and support document for your discounted registration if applicable) to eden8691@eden.org.tw to complete the conference registration process. Once the registration process is completed, your will receive an email to confirm your registration.




Terms and Conditions
1. Certificate of Attendance: A Certificate of Attendance will be provided once you have completed 2 days conference.
2. Unexpected Conference Cancellation notification: If there is any unexpected circumstance occurs, eg. typhoon, flood etc., which would cause unexpected conference cancellation, the cancellation notification will be announced on the Eden Social Welfare Foundation website on 11/27 at 10pm.
3. This conference is an eco-friendly-conference so please bring your own cup and cutlery during these 2 days.
4. Please reassure fill the correct title information on the registration form as the title of the payment receipt cannot be changed. (The receipt will be printed in Chinese. If you need a English receipt, please kindly let us know)
5. Due to administrative restriction, registration fee cannot be refunded. However, you can transfer your registration to anyone with your authorization. Please contact us by November 15th for any registration transferring application.
Contact Information
Organization: Eden Social Welfare Foundation
Contact Person: Molly at International Development Division
Contact number: +886-2-2230-7715 ext 6216
Contact email: eden8691@eden.org.tw




Conference Program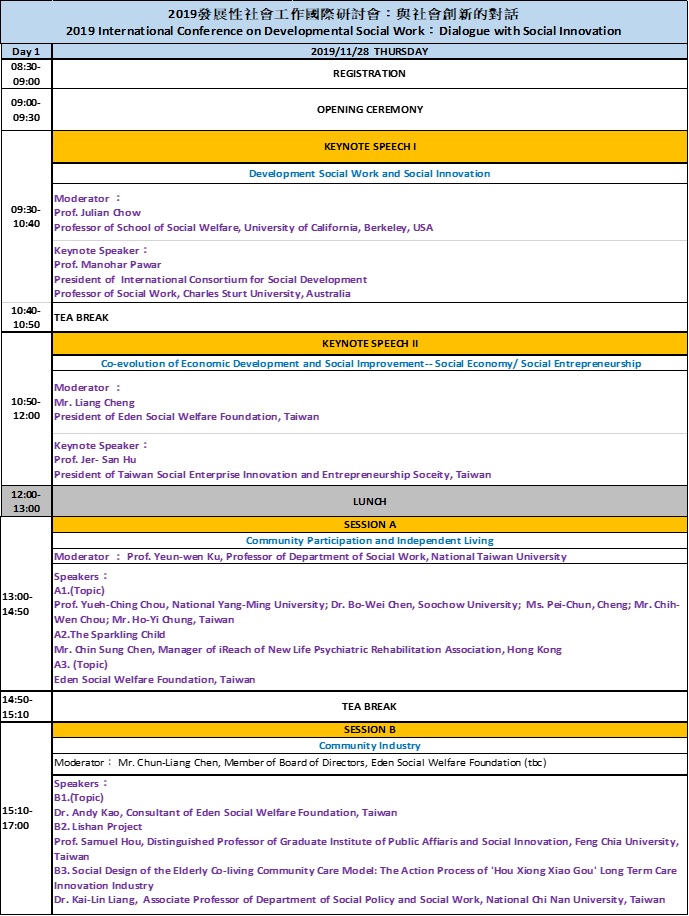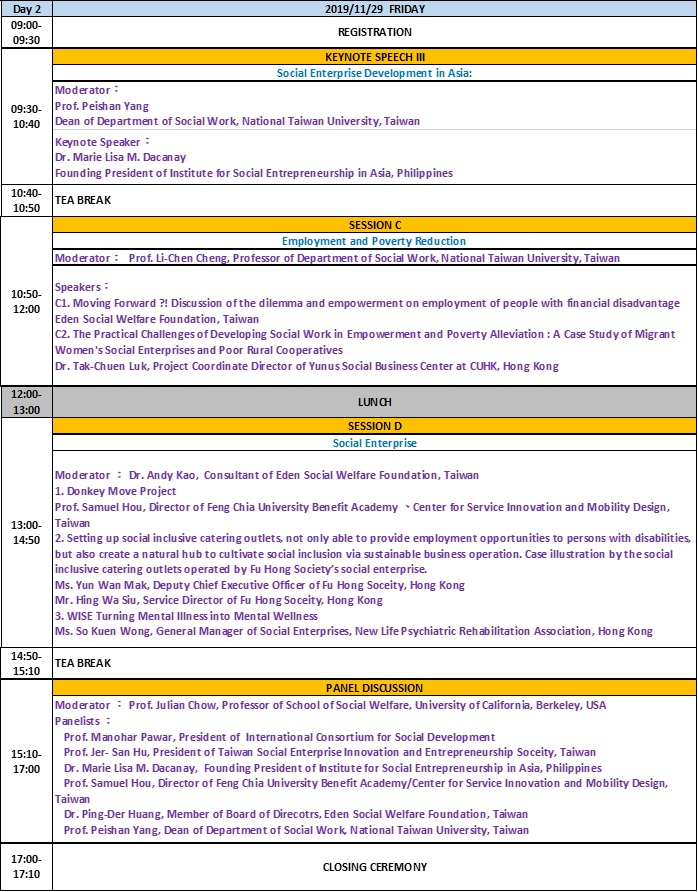 Transportation Information